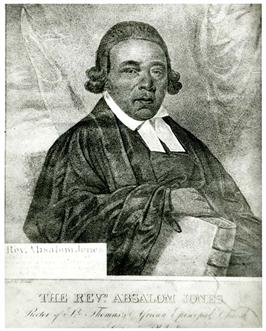 After Richard Allen secured his freedom, he was a circuit preacher and attended meetings in Delaware, Maryland, New Jersey, and Pennsylvania.  When Allen came to the Philadelphia in 1786, he was approached by the minister of St. George's United Methodist Church to preach to the small number of African Americans who attended.  It was here that Allen met Absalom Jones, a former worshiper at St. Peter's Episcopal Church. The two men, along with other black community leaders, talked about forming their own religious society.  However, since they came from many different backgrounds and religions, they instead formed the Free African Society in 1787.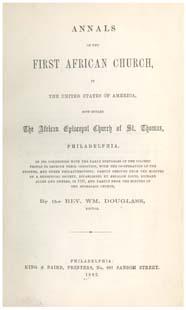 Among the first organizations of its kind in America, the Free African Society's main goal was to provide aid to newly freed blacks so that they could gather strength and develop leaders in the community.  The Society soon became too large to meet in Richard Allen's house and its meetings moved to the Quaker African School House.  In 1789, the Society more closely aligned itself with the Quaker faith and its meetings began to mimick Quaker services. That prompted Allen, who was a Methodist, and many who were loyal to him to leave the organization.
Top: Absalom Jones (in the inscription on the left it reads: "Driven out by the acts of white Methodists he and others formed St. Thomas Episcopal Chruch and was its first minister"), Historical Society of Pennsylvania.
Right: "Preamble of the  Free African Society," in William Douglass, Annals of the First African church in the United States of America, Now Styled the African Episcopal Church of St. Thomas, in Philadelphia (Philadelphia, 1862), The Library Company of Philadelphia.