"Without our demonstrations starting in '65, Stonewall would not have happened."
On July 4, 1965, 7 women and 33 men picketed in front of Philadelphia's Independence Hall.  On the very spot where Americans first asserted their rights and liberties, this small group of activists demanded equality for gays and lesbians. From these humble beginnings would emerge the Annual Reminder picket, one of the first gay rights demonstrations in the country.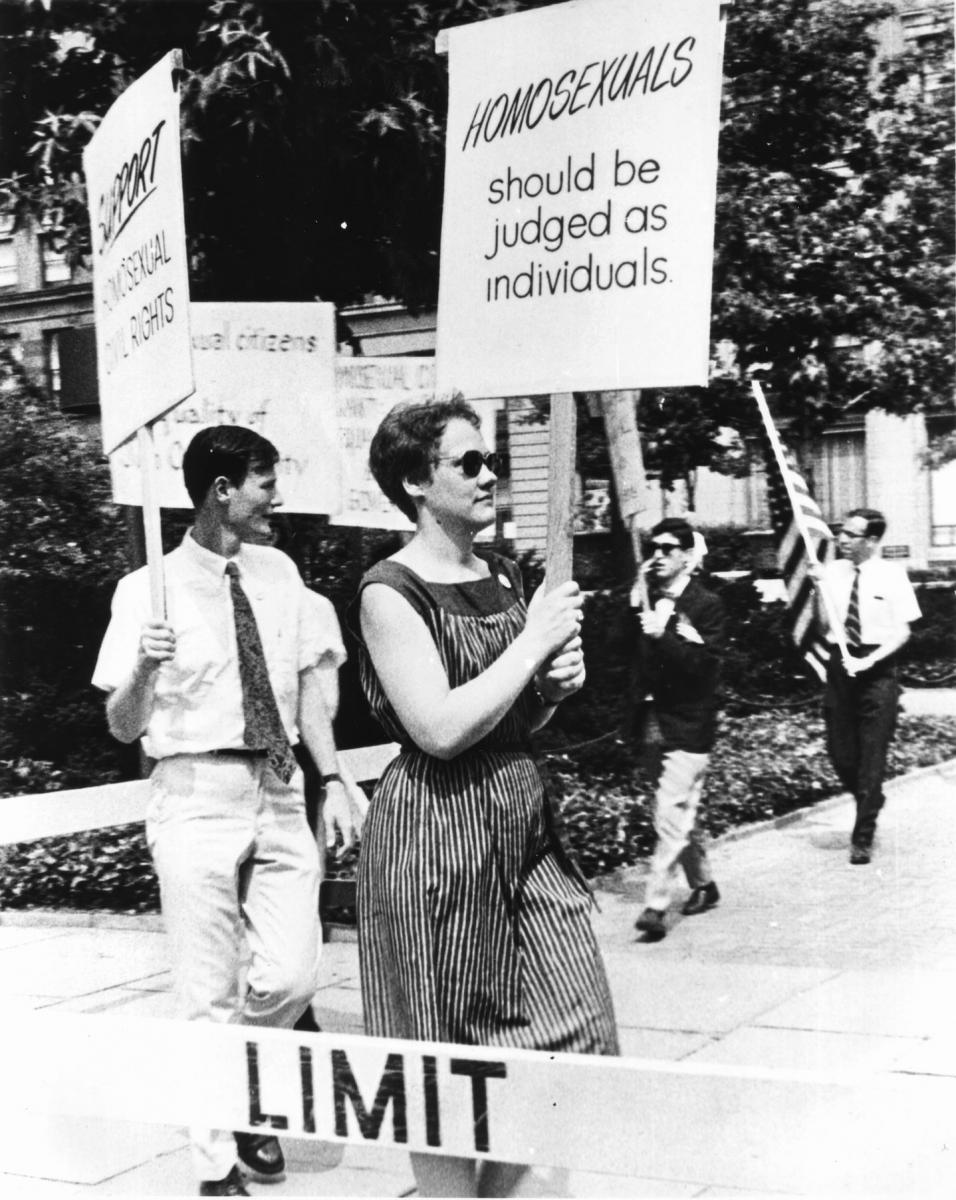 Barbara Gittings picketing at the Second Annual Reminder Day demonstration outside Independence Hall, July 4, 1966. Image courtesy of the John J. Wilcox Jr. LGBT Archives.
It has been 50 years since the first of these protests, yet the struggle to improve the lives of American homosexuals continues.  This June, the United States Supreme Court will decide whether same-sex couples should have the freedom to marry and if anti-marriage laws nationwide should be struck down as unconstitutional.
Join HSP during Lesbian, Gay, Bisexual and Transgender Pride Month (LGBT Pride Month) on Wednesday, June 3, to explore the Reminder Day picket and its influence on future generations of LGBT Americans as they fight for equality.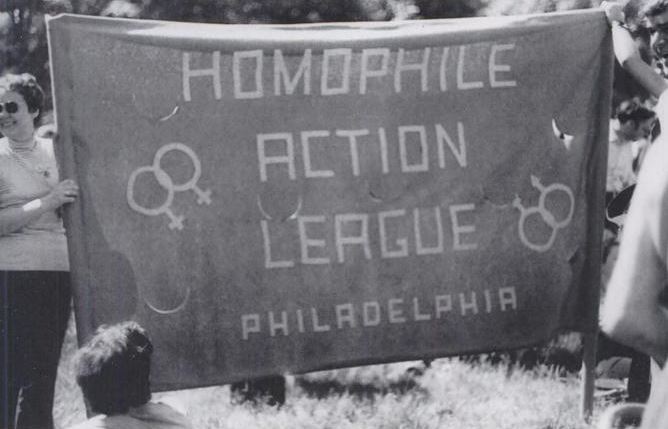 Barbara Gittings (left) stands alongside the Homophile Action League banner. Image courtesy of the John J. Wilcox Jr. LGBT Archives.
Bob Skiba, archivist at the John J. Wilcox Jr. LGBT Archives, will discuss Reminder Day and the early Homophile movement with playwright Ain Gordon and the audience. Joining the conversation will be Ada Bello, a founding member of the Daughter's Of Bilitis Philadelphia Chapter and the Homophile Action League.
Free for HSP members; $10 for non-members.
Act 48/CEU credits available for educators.
---
*Before Stonewall: The Gay Pride Movement in Philadelphia is part of An Artist Embedded, a two-year project between HSP and the Pew Center for Arts & Heritage featuring playwright Ain Gordon.
The program will take place almost exactly a month before the 50th anniversary of the inaugural Reminder Day picket on July, 4, 1965.
As part of the city-wide celebration - and only two days after Before Stonewall, the William Way LGBT Community Center and its John J Wilcox Jr. Archives will debut Speaking Out for Equality: The Constitution, Gay Rights & the Supreme Court, their newest exibit, at the National Constitution Center on June 5, 2015. 
July 4th, 2015 will also feature a re-enactment of the original Annual Day Reminder demonstration in front of Independence Hall.