by Kim McCleary, Education Manager
Founded in 1966 by college friends Huey Newton and Bobby Seale in Oakland, California, the Black Panther Party was organized under the goals of challenging police brutality against the black community, fostering black pride, and unification for the purposes of furthering civil rights. The lasting public perception of the party, one of militancy and criminal violence, does not capture the group's original goals to bring about social change—goals that were never fully realized.
Early Black Panther activities primarily involved monitoring police activities in black communities in Oakland, Los Angeles, Chicago, New York, and Philadelphia. The group started a number of popular community social programs, including free breakfast programs for school children and free health clinics in 13 black communities across the United States.
 
To accomplish their goals, the founders drafted a Ten-Point Program that laid out the Panthers' blueprint for change:
1) Freedom; the power to determine the destiny of the Black and oppressed communities.
2) Full Employment; give every person employment or guaranteed income.
3) End to robbery of Black communities; the overdue debt of forty acres and two mules as promised to ex-slaves during the reconstruction period following the emancipation of slavery.
4) Decent housing fit for the shelter of human beings; the land should be made into cooperatives so that the people can build.
5) Education for the people; that teaches the true history of Blacks and their role in present day society.
6) Free health care; health facilities which will develop preventive medical programs.
7) End to police brutality and murder of Black people and other people of color and oppressed people.
8) End to all wars of aggression; the various conflicts which exist stem directly from the United States ruling circle.
9) Freedom for all political prisoners; trials by juries that represent our peers.
10) Land, bread, housing, education, clothing, justice, peace and community control of modern industry.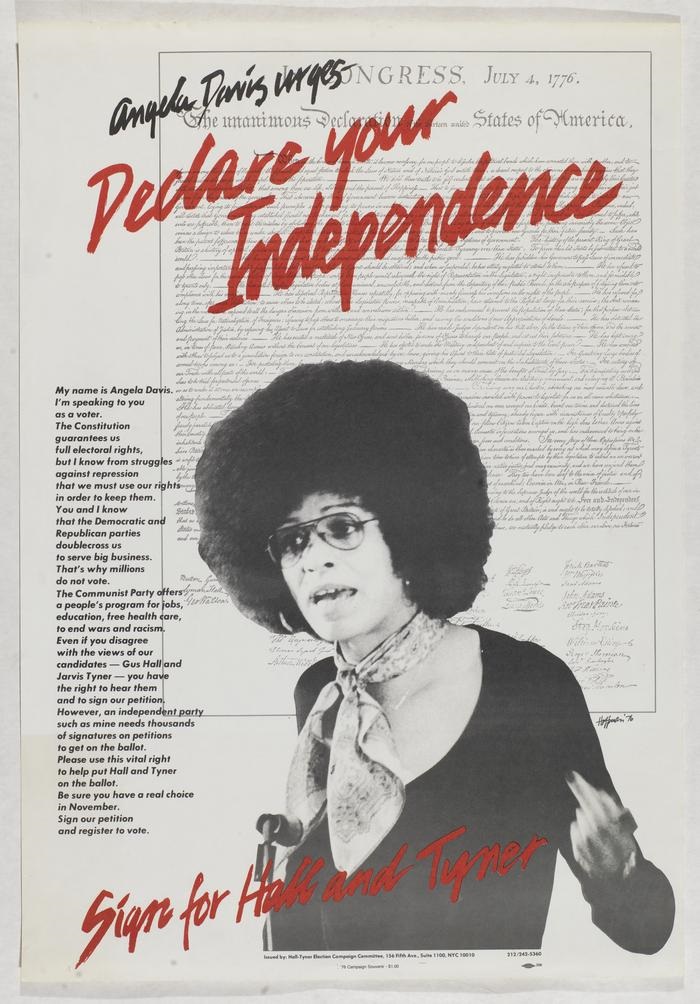 A poster encouraging people to sign a petition to put The Communist Party on the voting ballot, featuring political activist Angela Davis
At its peak in 1968, the Black Panther Party boasted a membership of roughly 2,000. Soon after, the group started to decline as a result of internal tensions, deadly shootouts, and FBI counterintelligence activities aimed at weakening the organization. When the movement officially dissolved in 1982, their ambitious ten-point blueprint had not yet been realized across the nation. The significant racial challenges that continue even decades later, including the continued killing of unarmed people of color by police, make the Panthers' complicated history particularly resonant today.
References:
Allen, Robert L. Dialectics of Black Power. New York: Weekly Guardian Associates, 1968. Historical Society of Pennsylvania.
McDaniel, Thelma. Thelma McDaniel Collection. Historical Society of Pennsylvania.
Ofari, Earl. Black Liberation: Cultural and Revolutionary Nationalism. Rev. version (June, 1970) of ealier REP pamphlet. Detroit, Mich.: Radical Education Project, 1970. Historical Society of Pennsylvania.
Smith, Jamil. "The Revolutionary Power of Black Panther". Time Magazine.