With only a small percentage of its collection digitized and made available online, HSP has embarked on new collaborations to make its collections more accessible to researchers across the country and around the world. 
Over the past year, HSP has partnered with FamilySearch to help increase the digitization of its collection.  As part of this new partnership, HSP was joined by its second pair of FamilySearch volunteers, husband and wife team Tome and Helen Longhurst.
Read more about the resources available to researchers through HSP's status as a FamilySearch Affiliate Library.
Read more about the work of HSP's first FamilySearch volunteers, Jerrol and Margaret Syme, and the published family histories book-scanning project.
---
HSP's card catalog –the key to the manuscript collection – contains over one million individual, hand-written cards with information about unpublished materials currently not searchable in Discover, HSP's online catalog.
Until now, for most manuscript materials, researchers had to visit the library in-person to discover these collections. Scanning and indexing the card catalog by HSP staff or private contractors was previously estimated to take nearly a decade and cost tens of thousands of dollars.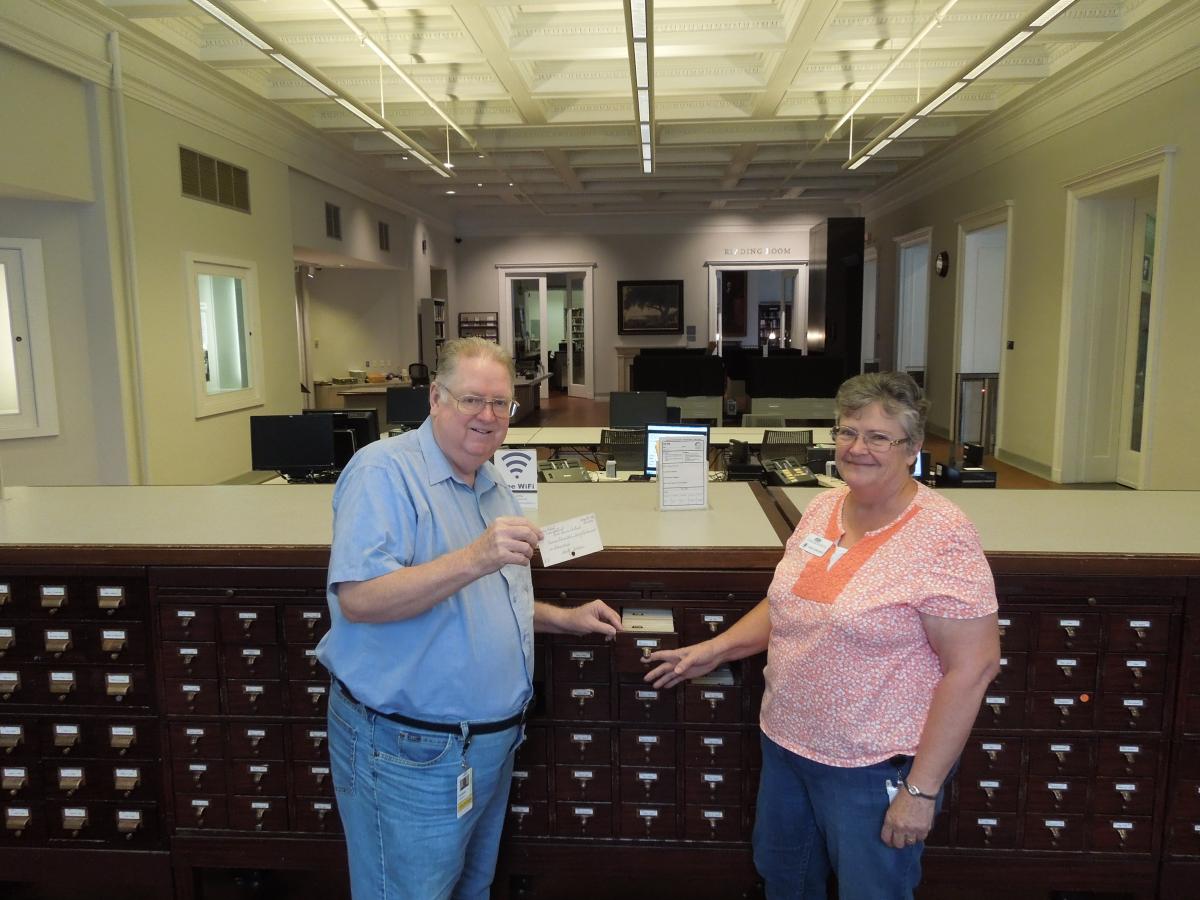 Tome and Helen Longhurst pose with the one millionth catalog card.
Through FamilySearch, one of the world's largest online genealogy databases, the card catalog has been scanned in its entirety, accomplished by two volunteers, Helen and Tom Longhurst, in less than three months.
The couple, from Florence, Montana, set up their scanning station in HSP's Information Commons this summer and began the process– drawer by drawer, card by card – of creating digital records of the manuscript holdings.
Each drawer contained anywhere from 500 to 1,200 individual cards, with the couple averaging nearly 90,000 cards per week.
To ensure the scanned image of each card is readable and complete, a three-layer review process was instituted with other FamilySearch volunteers in Salt Lake City, UT. Despite their breakneck speed, the Longhursts did not have to re-scan a single card.
With the card catalog scanning project complete, the next step in HSP's collaboration with FamilySearch begins: indexing the scanned images to make the information fully searchable in Discover, connecting researchers around the world to HSP's collections.
Click here to get started exploring HSP's online card catalog. Further inforamtion about how to navigate the card catalog is available here.