With only a small percentage of its collection digitized and made available online, HSP has embarked on new collaborations to make its collections more accessible to researchers across the country and around the world. 
Over the past year, HSP has partnered with FamilySearch to help increase the digitization of its collection.  As part of this new partnership, HSP was joined by its first pair of FamilySearch volunteers, husband and wife team Jerrol and Margaret Syme. 
Read more about the resources available to researchers through HSP's status as a FamilySearch Affiliate Library.
Read more about the work of HSP's second pair of FamilySearch volunteers, husband and wife team Tome and Helen Longhurst, and the scanning of HSP's card catalog.
---
Arriving in August 2014, Jerrol and Margaret Syme (from Mapleton, UT) worked seven hours a day, five days a week, scanning HSP's published family histories, page by page. These volumes, originally published in very small runs – often for other family members – contain information on individuals and families in the Mid-Atlantic region. Many of these histories are found nowhere else in the world.
After scanning, other FamilySearch volunteers stationed across the country began the task of indexing the volumes' names dates, and other information contained wherein – this metadata is now searchable online at discover.hsp.org, allowing researchers around the world to find their way to HSP's collections.
"The pace at which one would need to move to have a substantial number of records digitized is practically impossible," said Page Talbott, HSP's President and CEO. "But FamilySearch has developed an infrastructure that is remarkable."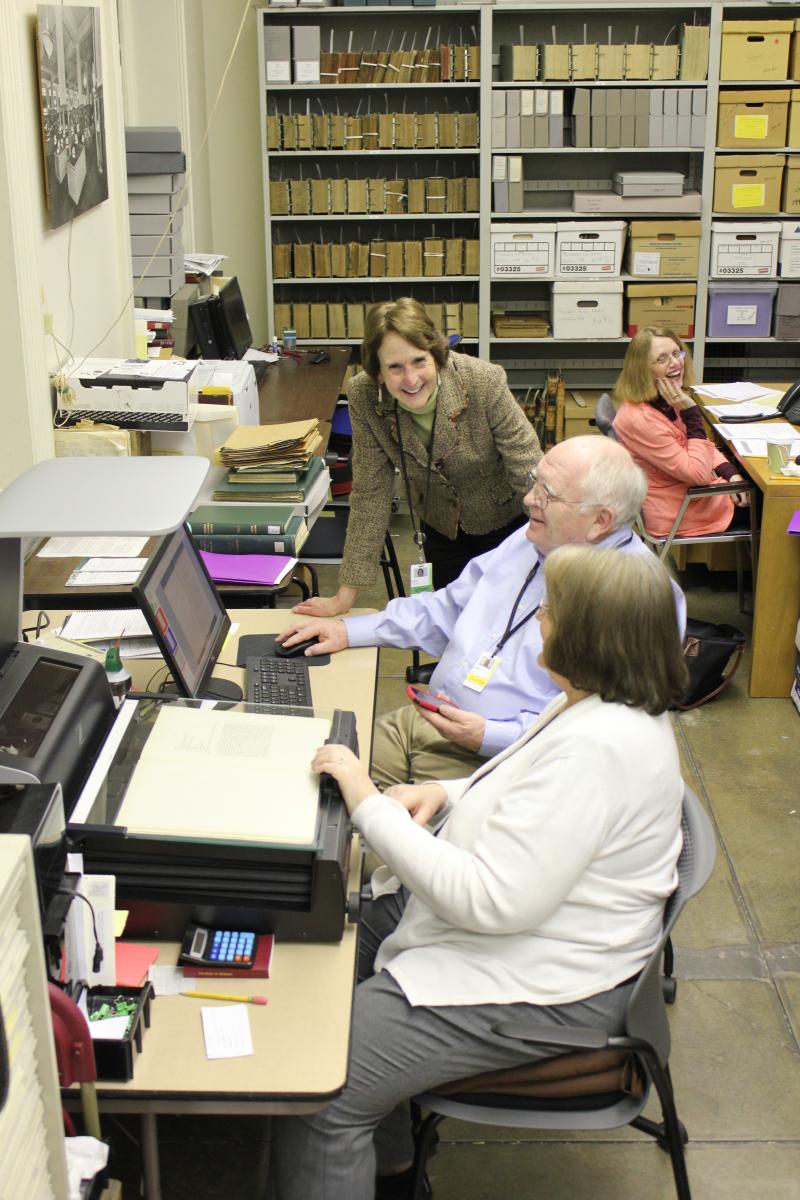 HSP's President & CEO Page Talbott chats with Jerrol and Margaret at the book-scanning station.
To prepare for their time in Philadelphia, the Symes received training in Salt Lake City on best practices of scanning and handling special collection materials.
"I have to re-remember all the spreadsheet and Windows applications I was hoping to put in the back of my brain and never use again," said Jerry Syme, a retired Air Force colonel and nuclear missile launch officer.
HSP staff had grown quite accustomed to the congenial presence of the Symes, with many sad to see them leave this June after scanning every volume from A to M, ## books. HSP 's collaboration with FamilySearch will continue unabated in the coming year with a second couple visiting the Library in the fall to resume the published family histories scanning project.