by Nina Kegelman, C. Dallett Hemphill Undergraduate Intern of the McNeil Center for Early American History
In his 1926 essay "The Negro Artist and the Racial Mountain," Harlem Renaissance poet and activist Langston Hughes wrote that "it is the duty of the younger Negro artist...to change through the force of his art that old whispering 'I want to be white,' hidden in the aspirations of his people, to 'Why should I be white? I am a Negro—and beautiful!'"
Black artists during the 1960s and 70s heeded Hughes' call, generating an immense body of work that confronted endemic discrimination and empowered black voices to tell their own stories. Philadelphia severed as a major cultural center for this movement, evidenced by several collections at the Historical Society of Pennsylvania that document Black Power literature in the city—most notably the Thelma McDaniel Collection, which includes literature and images that circulated in Philadelphia throughout the 1960s and 1970s. Philadelphia's black community struggled with second-class circumstances, taking formal action through organizations such as the Church of the Advocate, the Black Panther Party, and the Black United Liberation Front. Philadelphia continued its racial justice activism by hosting Third National Conference on Black Power in 1968, where black activist associations focused on priorities such as economic and educational equality, improved living conditions, and ending police brutality.
At the same time, Philadelphians were plagued by chaotic altercations between Black Panthers and the notoriously brash Frank Rizzo, head of the city's Police Department. While local Black Power groups challenged police violence and systemic oppression, the need for black empowerment of all kinds to uplift their community grew. Such cathartic and transformative circumstances gave way to a specific and profound variety of African American art and poetry in Philadelphia.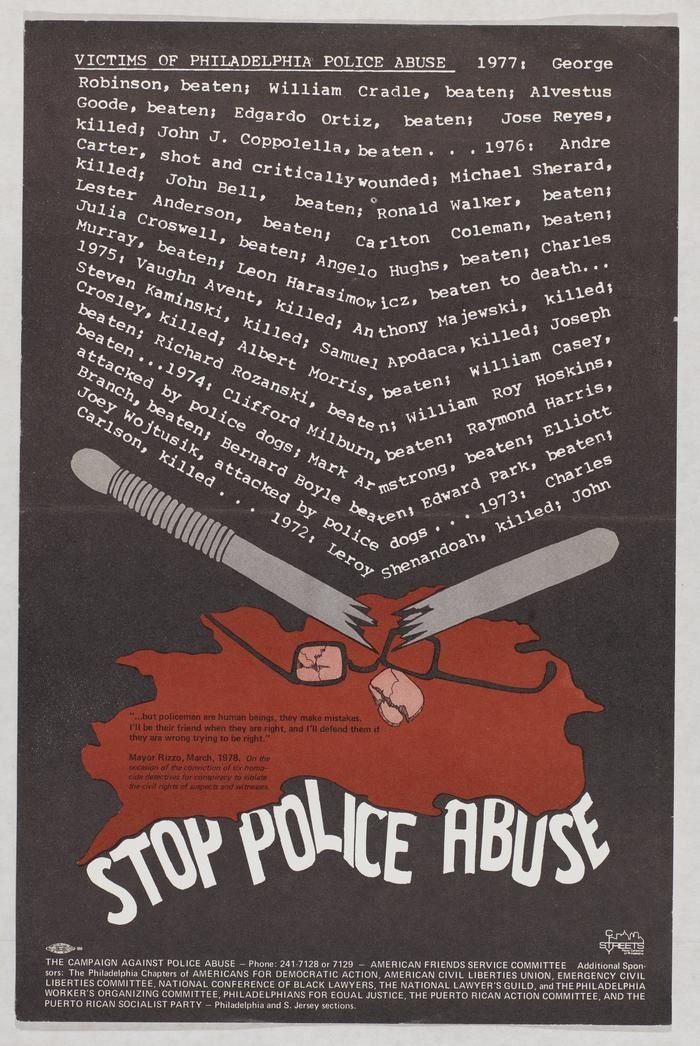 The Campaign against Police Abuse poster featuring names of Victims of Philadelphia Police Abuse in 1977
Two booklets of poetry by Carolyn Rodgers are contained in the Thelma McDaniel Collection: 2 Love Raps and Songs of a Black Bird. Both published in 1969, these works encapsulate the intersectional concerns of inequality throughout the 1960s. Rodgers is known for her emphasis on the role of black women in society in her poetry. Written in Ebonics, Rodgers' poems challenge society's devaluation of black identity and culture, offering a gritty yet heartfelt take on her experience as a black woman.
Black Poets Write On! An Anthology of Black Philadelphian Poets (1970), edited by the Black History Museum Committee, and Black Poetry: A Supplement to Anthologies which Exclude Black Poets (1969), edited by Dudley Randall, are both available at HSP courtesy of the Balch Institute. Black Poets Write On! highlights the works of contemporary poets, many of whom were students at predominantly black high schools and colleges in the Philadelphia area. The book's forward, written by Harold Franklin, proclaims that "A black poet is a kind of warrior," emphasizing the need for more black voices to eloquently combat racism and ignorance. The poems (some of which were anonymously published) are mostly short, focusing on subjects ranging from lost love to stories of humiliating discrimination.
Black Poetry: A Supplement to the Anthologies which Exclude Black Poets compiles works of select African-American poets. It features iconic poets of the Harlem Renaissance, poets who were "mature and established" by the late 1960s (such as Robert Hayden and Gwendolyn Brooks), and "outstanding younger poets," including Philadelphia's first poet laureate Sandra Sanchez. Many of the poems in the latter half of the book mourn the deaths of Malcolm X and Martin Luther King Jr., while themes of darkness, endurance, and prevailing righteousness emerge throughout the compilation.
In his poem "Black Art" featured in Black Poetry, LeRoi Jones writes "We want a black poem. And a / Black World. / Let the world be a Black Poem / And Let All Black People Speak This Poem Silently / or LOUD." While Jones' vision of a world of black poetry may not yet be fulfilled, seeing his and many other black artists' work preserved fifty years after their publication is a testament to the strength of revolutionary art.
References::       
"Carolyn M. Rodgers". Poetry Foundation. Available at: https://www.poetryfoundation.org/poets/carolyn-m-rodgers
Genovese, Holly. The Encyclopedia of Greater Philadelphia. "Black Power". Available at: "http://philadelphiaencyclopedia.org/archive/black-power/
McDaniel, Thelma. Thelma McDaniel Collection, Historical Society of Pennsylvania. 
Nickels, Tom. "The Local Lens: A Guide to Philadelphia Poets". Spirit News, September 25, 2015.  Available at: https://spiritnews.org/articles/the-local-lens-a-guide-to-philadelphia-poets/