by Haverford College interns Madison Arnold-Scerbo and Jo Mikula
In the early 1960s, Temple University devised a plan for an expansion that involved displacing a number of people in a predominately black, low-income neighborhood. By 1968, Temple's proposed expansion had become a major concern for a number of black Philadelphians.
The Thelma McDaniel Collection at HSP includes a number of newspapers produced by black students calling for a stop to the expansion. The front page of Black Torch: The Voice of Black Students from April 21, 1969 reads loud and clear: "Stop Temple's Expansion Now!"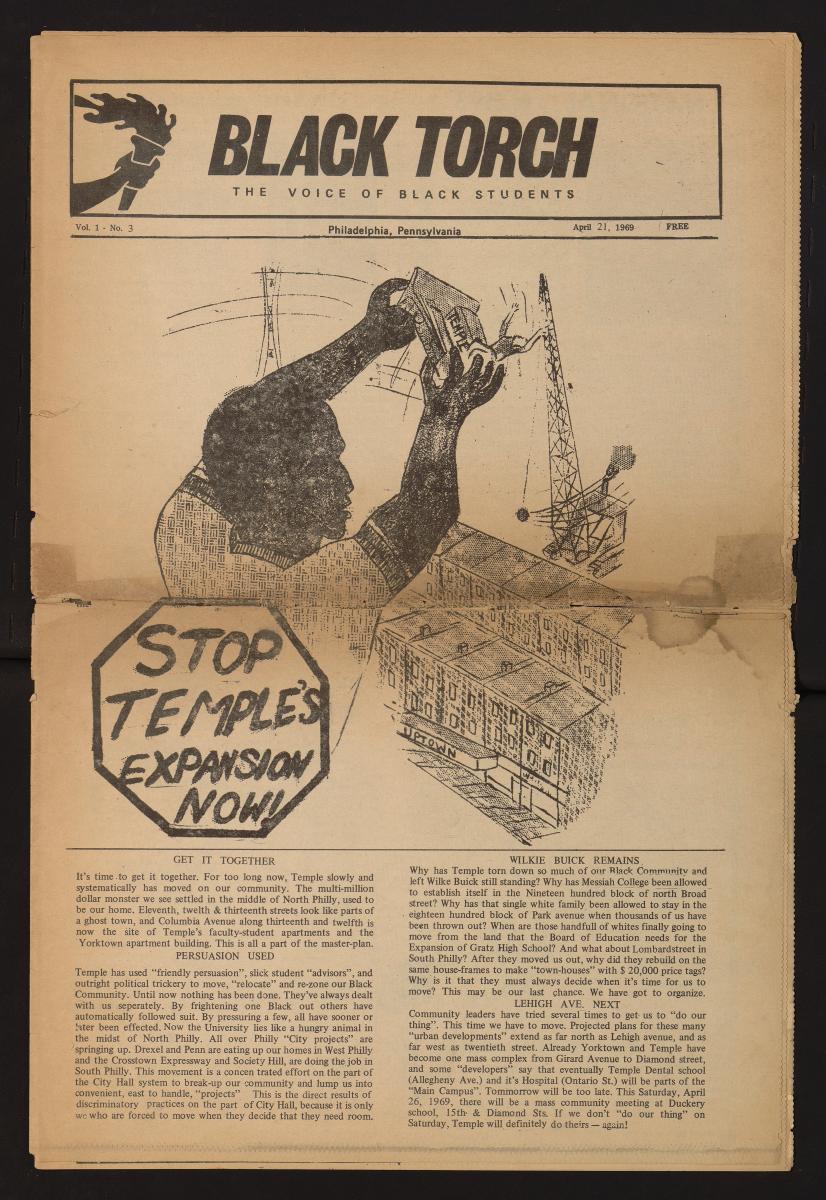 The Black Torch front page, April 21, 1969
The article goes on to call for action in the black community, saying "It's time to get together. For too long now, Temple slowly and systematically has moved on our community. The multi-million dollar monster we see settled in the middle of North Philly, used to be our home."
The April 4 edition of Temple Free Press is almost completely devoted to the problem of Temple's expansion. It contextualizes the expansion policy and suggests alternative expansion plans for the school.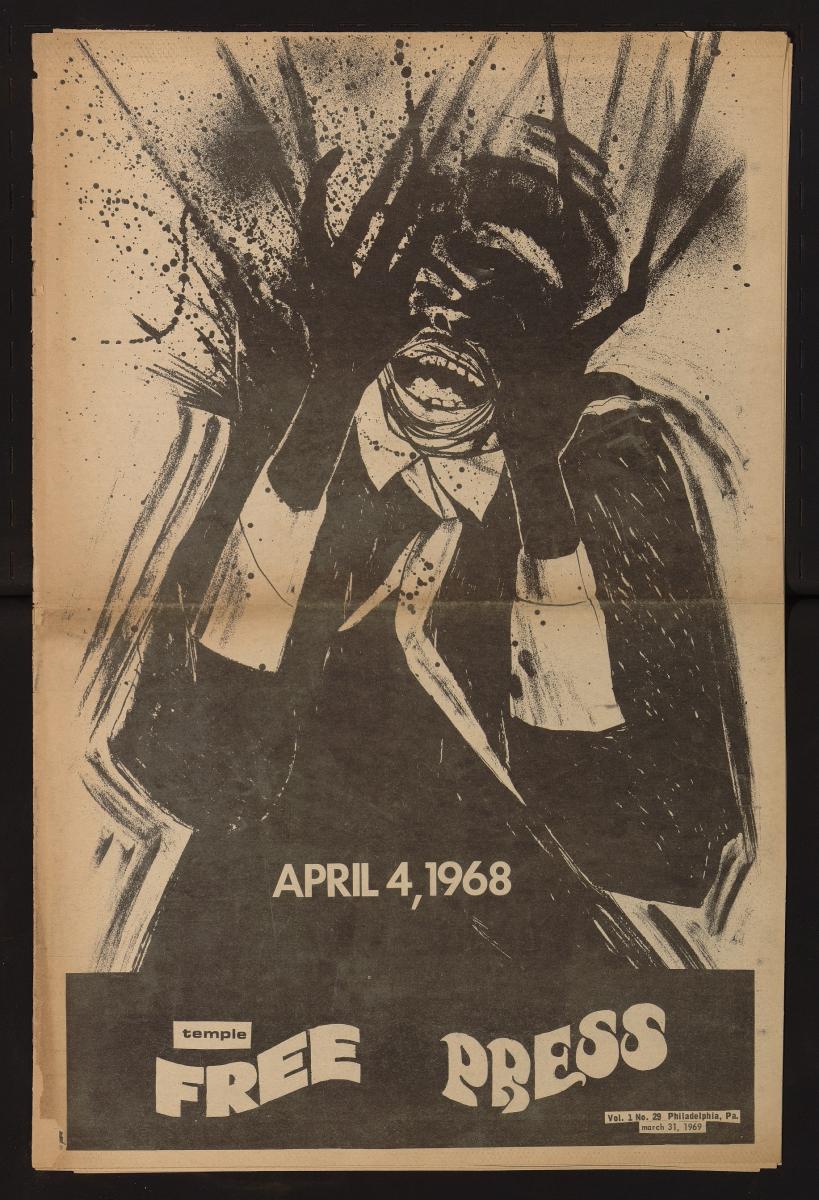 Temple Free Press front page, April 4, 1968
Neither Black Torch nor Temple Free Press shied away from identifying the racist nature of this plan in their articles, evidenced by these words published in the Black Torch:
All over Philly "City projects" are springing up…This movement is a concentrated effort on the part of the City Hall system to break-up our community and lump us into convenient, easy to handle, "projects".  This is the direct results of discriminatory practices on the part of City Hall, because it is only we who are forced to move when they decide that they need room.
The protests against Temple's expansion proposals went beyond newspaper articles.  As the plans gained momentum in the spring of 1969, Temple's student run Steering Committee for Black Students (SCBS) requested that the University agree not to expand anymore "unless approved by the black community or its representatives…and unless provisions are made for the re-location in mass of black communities and the retaining of black communities in the area of future expansion." When the administration failed to commit to any such agreement, SCBS led a number of sit-ins.
The leaders of SCBS managed to convince the president of Temple to create an expansion committee composed of Temple employees, community members, and government representatives. When the committee failed to reach a consensus, Pennsylvania Governor Raymond Shafter eventually imposed a new plan which limited the scope of Temple's planned expansion but still resulted in the displacement of some residents. 
Temple was by no means the only university to have engaged in expansion plans that targeted primarily black neighborhoods. Both the University of Pennsylvania and Drexel University took over a number of predominately black neighborhoods in West Philly throughout the 1960s and 70s, and Penn is still engaging in controversial expansion practices to this day. The Philadelphia Federal Reserve announced in 2014 that University City, the neighborhood home to both Penn and Drexel, has experienced a particularly acute drop in affordable housing due to high rates of gentrification spurred in large part by the universities. 
Philly as a whole is facing similar issues related to gentrification. A recent analysis of data from the 2000 Census and the 2016 American Community Survey revealed that two of the ten most gentrified zip codes in the United States are in Philadelphia. As in the university cases, much of this gentrification is occurring in low-income black communities. Neighborhoods like Fairmount and Point Breeze have seen the displacement of many non-white residents in recent years. The Temple newspaper articles in HSP's archives show that the current displacement of low-income minorities from many Philly neighborhoods reflects a longer history of race and class tension in Philadelphia. 
References:
Bowen-Gaddy, Evan. "3 Maps that Explain Gentrification in Philadelphia". PlanPhilly, March 13, 2018.
McDaniel, Thelma. Thelma McDaniel Collection. Historical Society of Pennsylvania.
Young, Earni. "The Problems and the Promise: Gentrification in Philadelphia". The Philadelphia Inquirer.