If you've been keeping up with recent HSP news, you've probably seen a press release documenting records of the Parry family that we recently acquired.  These two wonderful collections, one the George F. Parry family volumes (Collection 3694) and the other of Susan Parry volumes (Collection 3695), contain interesting and in-depths glimpses into the history of medicine and veterinarian medicine in Pennsylvania during the 1800s.
The Parrys were born into a Quaker family in Bucks County, Pennsylvania.  George F. Parry (1838-1886) became one of the first veterinarians (and probably the first from Pennsylvania) to receive professional veterinary training in the United States. He graduated from the Boston Veterinary Institute in 1859, served as a veterinary surgeon with the 7th Pennsylvania Cavalry during the Civil War, and conducted a private practice in Newtown, Bucks County, Pennsylvania, from shortly after the war until his death at age 48.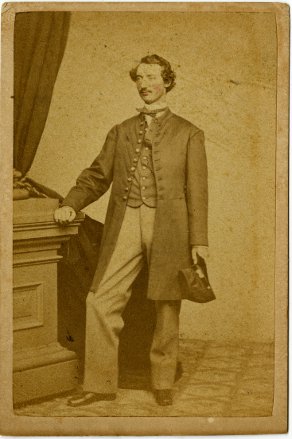 The Parry siblings are surely interesting enough to warrant their own blog post, but it is George F. Parry in whom I am currently interested.  For you see, among Parry's diaries are three he kept during the Civil War, from 1863, 1864, and 1865.  HSP and many other historical institutions around the nation are currently in the midst of remembering the 150th anniversary of the Civil War through exhibitions, programs, and writings.   To kick off this year, I will be doing monthly postings of a few transcriptions from the corresponding month in Parry's diaries.  So this month, January 2013, we'll take a look at couple of Parry's entries from January 1863.  Throughout the year, we'll be tracking Parry's movements from his pre-war life in Bucks County, to his mustering (in June) in the army, to his travels beyond the state's borders and his wartime activities.  It's sure to be an interesting journey, so please read along and leave comments!
To see other posts in the series, check out the links over on the right-hand side of this page.  Clicking on the diary images will take you to our Digital Library where you can exmaine the volumes page by page, along with other digitized items from the Parry collection.
*****
At the beginning of 1863, Parry was living in Newtown, Bucks County, Pennsylvania. He had received his degree a few years prior, though it's a little unclear if he was practicing at this point.  Parry often remarked about people he had visited, and here are a few of his January highlights.
---
A few notes about the transcriptions:  I will keep the pattern of Parry's writings as close as formatting here will allow.  My own additional or clarifying notes will be in brackets []. Any grammatical hiccups that aren't noted as such are Parry's own.
---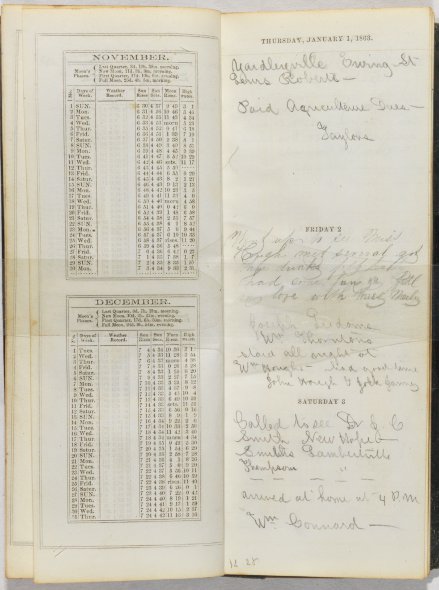 Saturday, January 3
Called to see Dr. J. C.
Smith New Hope ------
Smiths Lambertville
Thompson     " [ditto]
--- --- --- --- ---
Arrived at home at 4 pm
Wm. Connard -----
*****
Sunday, January 11
Spent afternoon and Eve.
at Franklin Cadwallader
had a very pleasant time
accompanied by Julia V. [Taylor?]
arrived at home 11 O'clock
at night
Call Chas. Roberts ---- morning
*****
Sunday, January 18
Levi Buckman
Chas. Roberts
Quaker meeting and
Episcopal  Church ----
Evening went to Capt.
Eyre with Miss Thompson
very cold and clear
*****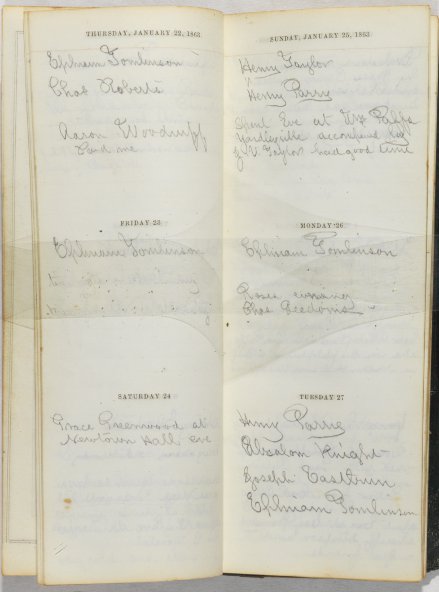 Saturday, January 31
Wm. Lintons
Spent the evening at David
Waston's had a splendid
Dinner. [A]ccompanied by
Tom Linton. Guests
Miss Thompson Taylor
Geo. Worstal
had a very gay time
Home at 1 o'clock