Happy New Year everyone! Thanks for returning to Fondly, Pennsylvania for more transcriptions from the George F. Parry Civil War diaries (George F. Parry family volumes, Collection 3694). If you're just joining us, in 2012 HSP acquired the diaries of Bucks County resident and Civil War veterinary surgeon George F. Parry. In that collection are three diaries he kept during the Civil War dating from 1863 to 1865, when he served with the 7th Pennsylvania Cavalry. In celebration of Parry's work and the 150th anniversary of the Civil War, I'm providing monthly posts on Fondly, PA of transcripts of entries from his diaries.
To see other posts in the series, check out the links over on the right-hand side of this page.  Clicking on the diary images will take you to our Digital Librarywhere you can examine the volumes page by page, along with other digitized items from the Parry collection.
*****
January 1864 was a rather quiet and uneventful month for Parry. At the beginning of the month, he and his regiment were in southern Tennessee making their way up to Nashville. Parry spent the first couple weeks of January in Nashville enjoying a respite from marching and battles. After completing his stay, he boarded a boat and traveled up the Mississippi River towards Ohio. He received a furlough at the end of the month and was back in Philadelphia with his family by the 31st.
---
Notes about the transcriptions: I've kept the pattern of Parry's writings as close as formatting here will allow, including his line breaks and spacing. My own additional or clarifying notes will be in brackets [ ]. Any grammatical hiccups that aren't noted as such are Parry's own.
---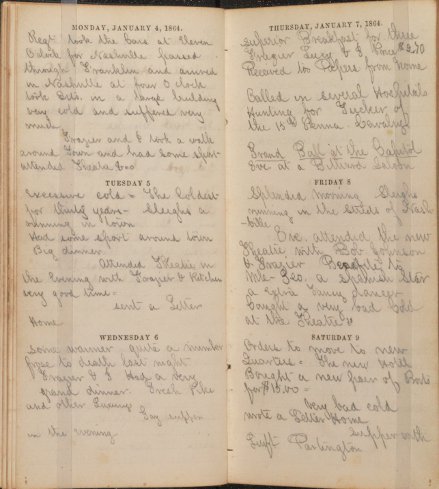 *****
Friday, January 1
Pluaski [Pulaski] Tenn. very cold
Encamped on side of Hill with
no tents – Horses froze to Death
and some men
Picked out Ten Star Horses
for Genl Crooks
turned over our Horses
Bid good by to my Horse Barefoot
*****
Monday, January 4
Regt took to Cars at Eleven
O'clock for Nashville [and] passed
through Franklin and arrived
in Nashville at four o'clock
took qrts. In a large building
very cold and suffered very
much
                   Frazier and I took a walk
around Town and had some sport
attended Theatre etc.
*****
Sunday, January 10
Breakfast on Fresh Trout Eggs
Buck Cakes + Coffee
                                  Called up at
St. Cloud Hotel[,] got Dressed---
Also at Hospital and got some
Medicine for my Cold—
received a Letter from Lizzie Linton
and Home.    Supper with Bob
Johnson
*****
Wednesday, January 20
Started down the Ohio at
8 A.M. Passed by the mouth of the
Tennessee River. Purduka [Paducah] Mound
City – some ice in the river and
snow on the ground – arrived at
Caro [Cairo] at 2 P.M. Had a fine view
of Mississippi River and state of
Misouri [Missouri] – three states in view
at one time. Caro a place of
account. Very fine Day.
*****
Friday, January 22
One of our men killed a Provo Guard of
Caro for arresting him. Capt. Newlin
Lieut Schuyler under arrest by Major
Davis. Our Boat Anckored out
in the streem all Day. Eve.
Boat came ashore. Got ready
for the Cars. Bid good by
to Caro at 11 o'clock in the
Evening      a splendid moon
--light night
*****
Thursday, January 28
Fine morning – feel much
better---
              Men receiving their furloughs[.]
I received my furlough[,] settled
my Hotel bill for two days $5.00[,]
got left by the cars at 2 P.M.
by Heck being slow.  Waited for
the 5 o'clock train. Headack [headache]
returned with vigor. A very
dull ride from Harrisburg to Phila.
*****