Greeting one and all! We're back this month with another group of transcripts from the George F. Parry Civil War diaries (George F. Parry family volumes, Collection 3694). If you're just joining us, in 2012 HSP acquired the diaries of Bucks County resident and Civil War veterinary surgeon George F. Parry. In that collection are three diaries he kept during the Civil War dating from 1863 to 1865, when he served with the 7th Pennsylvania Cavalry. In celebration of Parry's work and the 150th anniversary of the Civil War, I'm providing monthly posts on Fondly, PAof transcripts of entries from his diaries.
To see other posts in the series, check out the links over on the right-hand side of this page.  Clicking on the diary images will take you to our Digital Librarywhere you can examine the volumes page by page, along with other digitized items from the Parry collection.
*****
This month we have an extended offering of transcripts that include entries concerning Parry's participation in the Battle of Chickamauga in Georgia. (This year marks the 150th anniversary of the battle.)  As Parry's regiment moved through Tennessee into Georgia, things remained quiet until it reached the outskirts of Chickamauga on the 18th. Though Parry never mentioned the name of the battle or town, his notes coincide with the historical record, and it's clear that his regiment took a beating. This was a tough September for Parry and the Union Army.
---
Notes about the transcriptions: I've kept the pattern of Parry's writings as close as formatting here will allow, including his line breaks and spacing. My own additional or clarifying notes will be in brackets [ ]. Any grammatical hiccups that aren't noted as such are Parry's own.
---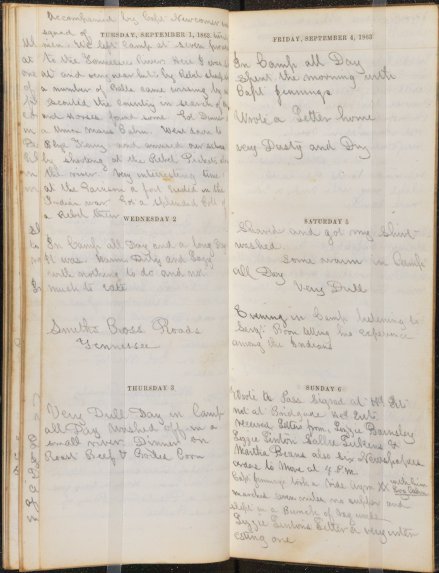 Tuesday, September 1
Accompanied by Capt. Newcomer and
squad of twenty
men. We left Camp at seven[,] proceeded
to the Tennessee River. Here I was shot
at and very near hit by the Rebel sharpshooter[.]
a number of Balls came wissing[sic] by us[.]
Scouted the county in search of Mules
and Horses. found some. Col. Dimner at
a Union Mans[sic]cabin. Went down to
[Blye T'enny?] And amused ourselves
by shooting at the Rebel Pickets along
the river. very interesting time[.]
at the Garrison a fort erected in the
Indian war. Got a splendid Colt of
a Rebel their[sic].
*****
Saturday, September 12
Up at twelve[,] in saddle and
marched to Tennessee river opposite
Chatanogga[sic]. A long train wait-
ing to get across the river[.]
Afternoon went down to the Tenn-
essee River and took a swim
Rebel Deserters coming in all
the time. Brag[g]'s army bound
for Atlanta[,] Georgia.
*****
Friday, September 18
Wrote a letter to W. P. Sharkey ------ did not send it
at ten o'clock we where attacked by
the Rebels and after fighting them
four hours we fell back six miles to
our main lines for reinforcements[.]
three  of our Reg't killed and many
wounded – very hard fighting.
very cold. Reinforcements come-
ing up[,] we halted for the night
men laying on their arms
*****
Saturday, September 19
Battle raging[,] reinforcements come
up all night. Very cold. Bet ten
Dolls. and won on Gen'l Rosecrans
Terrible Battle raging all Day[.]
Our men killed by the thousands
Saw men wounded + killed by the
Hundreds.
        Loss. 1200 Killed
                Wounded 7000 -----
Slightly wounded in neck by shell
marched all night and very cold
and frosty.
*****
Sunday, September 20
Battle still raging[,] our men driven
back.
Wagons fell back and commenced
crossing the Tennessee River[.] they
crossed all night and day.
Fell back to Chattanooga[,] slept
warm and well       very cold
*****
Monday, September 21
Wagons crossing the Tenn, River
all night. Rosecrans reinforced
got my dinner expense for Dinner
$2.75[.] Letter from Frank Cadwallader[.]
went out to the front in the Evening
Capt. May killed. all night till day
Light in one Hundred yards of rebel
Lines. cold—The fighting been been
Very terrific to Day. our forces com-
peled[sic] to fall back
Loaned Geo. Frazer twenty Dollars.
*****
Tuesday September 22
All night in front Rebel lines
up at three and in saddle[,] retreated
at Chattanooga + crossed the river
our Wagons have been crossing
for two days and nights
           our Army fell back to
Chattanooga[.] fighting all
Day.
            Washed off in Tenn. River
            Very cold
*****
Friday, September 25
Tennessee on march
Marched after Day Light
slow till four O'clock[,] then
encamped for the night
very dusty and some warm
some cold[,] slept well
in camp in a Hollow twenty
four miles north east of Tenn.
Chattanooga Tenn.