Hi everyone! Thanks for joining us again as we roll through another series of entries from the George F. Parry Civil War diaries (George F. Parry family volumes, Collection 3694). If you're just joining us, in 2012 HSP acquired the diaries of Bucks County resident and Civil War veterinary surgeon George F. Parry. In that collection are three diaries he kept during the Civil War dating from 1863 to 1865, when he served with the 7th Pennsylvania Cavalry. In celebration of Parry's work and the 150th anniversary of the Civil War, I'm providing monthly posts on Fondly, PA of transcripts of entries from his diaries.
To see other posts in the series, check out the links over on the right-hand side of this page. Clicking on the diary images will take you to our Digital Library where you can examine the volumes page by page, along with other digitized items from the Parry collection.
*****
In October 1863, we join Parry as he and his regiment traveled south through Tennessee. Over the course of the month, things seem to have moved at a slower pace, which was probably welcome after having been through battle late last month. However, as Parry noted frequently, their poor horses and mules were worked to death during the long marches, and there was often a lack of feed. By the end of the month, Parry's in Stevenson, Alabama, a small and apparently pleasant town located not far from the Tennessee border.
---
Notes about the transcriptions: I've kept the pattern of Parry's writings as close as formatting here will allow, including his line breaks and spacing. My own additional or clarifying notes will be in brackets [ ]. Any grammatical hiccups that aren't noted as such are Parry's own.
---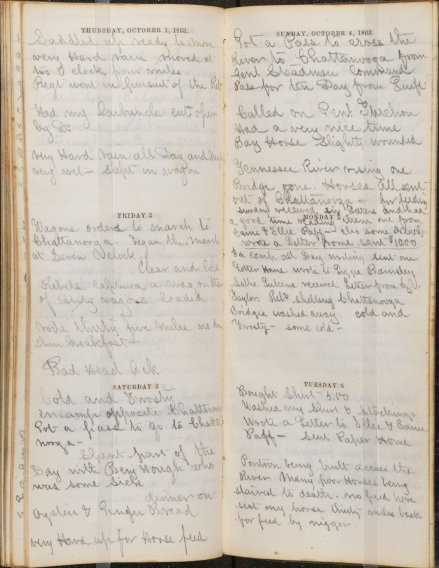 Sunday, October 4
Got a Pass to cross the
River to Chattanooga from
Genl Steadman command
Pass for ten Day from (Lwift)?
Called on Genl Turchon
Had a very nice time
Bay Horse slightly wounded
Tennessee River rising[,] one
Bridge gone. Horses all sent
out of Chattanooga – for feeding
Sunday received six letters and had
A good time reading them[.] one from
Carrie and Ellie Paff – also some (News)?
wrote a letter home sent $10.00
*****
Friday, October 9
Reading a novel all the morn-
ing --
           took a walk over the Camp
field[,] saw many Hungry and many
mules + Horses starving for the
want of feed – Bought a
Pie Leather[?] Pie[.] very nice
day. Saw some of Genl Grants'
men.
*****
Tuesday, October 13
Chattanooga Tennessee River
this is Election Day in Penn.
Curtin and Woodward for
Governor.
            A very hard rainy
Day[.] Hard to keep dry in
tent.
            Reading and sleeping
Taking Dr. Bonsalls drops for
Bowles[sic] ---
            Wrote a letter to
Frank Cadwallader
*****
Tuesday, October 20
In Camp all Day and did
not move. Very nice Day
Slept[,] read and down to
the river[.] Saw some strange
birds ---
             In good health
Ordered to Move at 6PM[sic] in
the morning[.] Spent the Eve.
on the Banks of the River
splendid Evening
*****
Thursday, October 22
Road to Stevenson Alabama
Up at daylight and began to
Ascend the Walnut Ridge of Cumber-
land Mountain[,] all day getting up
and very hard day for the mules.
Encamped on the top and spent
The night[.] made a fire to sleep
by --- clear 12 o clock woke up
found it raining Hard. Some
thief stole my Rations.
*****
Tuesday, October 27
Started on march at sun rise
and after a days march south
and much sport arrived at Jasper[.]
Looked around[,] saw the town and
bought three Pies[,] Box Sardines
had a right good supper[,] saw a
soldier buried – small pox very bad here – a very nice town on a very
level piece of ground hemed in by
mountains
*****
Saturday, October 31
Steavenson[sic] Alabama
Accompanied by Wm. Yetters [Yellers?]
Went down to Steavenson
I got my hair cut ---
Got weighed – weight 152 lbs.
Clear and nice ---