Welcome to the second installment of transcripts from the George F. Parry Civil War diaries (Parry family volumes, Collection 3694). In the event that you're just joining in, or have perhaps forgotten what this is about, HSP recently acquired the diaries of Bucks County resident and Civil War veterinary surgeon George F. Parry. In that collection are three diaries he kept during the Civil War, 1863-1865, when he served with the 7th Pennsylvania Cavalry. In celebration of Parry's work and the 150th anniversary of the Civil War, I'm providing monthly posts on Fondly, PA of a few transcripts from his diaries.
To see other posts in the series, check out the links over on the right-hand side of this page.  Clicking on the diary images will take you to our Digital Library where you can exmaine the volumes page by page, along with other digitized items from the Parry collection.
*****
This month we move onto February 1863. When we last left Parry, he was enjoying crisp winter evenings, outings with friends, and plenty of general merriment. Not so surprisingly, this trend continued into February. Let's take a glimpse into his daily whereabouts.
---
Notes about the transcriptions: I've kept the pattern of Parry's writings as close as formatting here will allow, including his line breaks and spacing. My own additional or clarifying notes will be in brackets []. Any grammatical hiccups that aren't noted as such are Parry's own.
---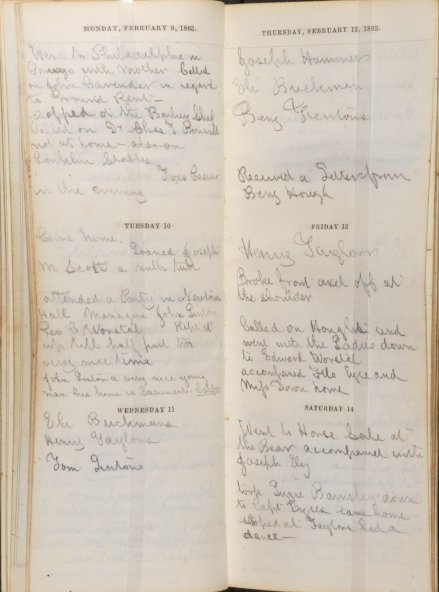 Thursday, February 5
Paxsons Store dancing
Chas. Leedoms drinking
cider
Presbyterian Church
Business very dull
snowy and rainy
*****
Tuesday, February 10
Came home.
                            Loaned Joseph
M. Scott a milk tube
attended a Party in Newtown
Hall. Managers John Linton
Geo. C. Worstal kept it
up till half past two
very nice time
John Linton a very nice young
man, his home is Sacramento, Calif.
*****
Thursday, February 19
Enos Tomlinson
Stephen Cornell
Party at Major Buckman's
spent the evening at Rose's
playing chicquards with
David Leedom Esq. Blaker
Ordered some medicine
                           Geo Ashmead
*****
Monday, February 23
Medicine arrived from
Ashmead
                  Eli Buckman
Henry Taylor
Took a number of Newtown
Ladies out to Barnsleys.
had a good time. Eliza Buckman
Dr. Smith letter from Holland