Greetings readers! And welcome back to another post of transcripts from the George F. Parry Civil War diaries (George F. Parry family volumes, Collection 3694). If you're just joining us, several months ago, HSP acquired the diaries of Bucks County resident and Civil War veterinary surgeon George F. Parry. In that collection are three diaries he kept during the Civil War, 1863-1865, when he served with the 7th Pennsylvania Cavalry. In celebration of Parry's work and the 150th anniversary of the Civil War, I'm providing monthly posts on Fondly, PA of transcripts of entries from his diaries.
To see other posts in the series, check out the links over on the right-hand side of this page.  Clicking on the diary images will take you to our Digital Library where you can examine the volumes page by page, along with other digitized items from the Parry collection.
*****
The Springtime social scene continued in full force for George Parry in May 1863. He kept himself quite busy it seemed, as there was no shortage of things to do or people to see. This month, George traveled around the Bucks County and into New Jersey, received some hay, and bought a horse! And, of course, he maintained close contact with a regular group of friends that were mentioned in many of his previous entries. 
---
Notes about the transcriptions: I've kept the pattern of Parry's writings as close as formatting here will allow, including his line breaks and spacing. My own additional or clarifying notes will be in brackets [ ]. Any grammatical hiccups that aren't noted as such are Parry's own.
---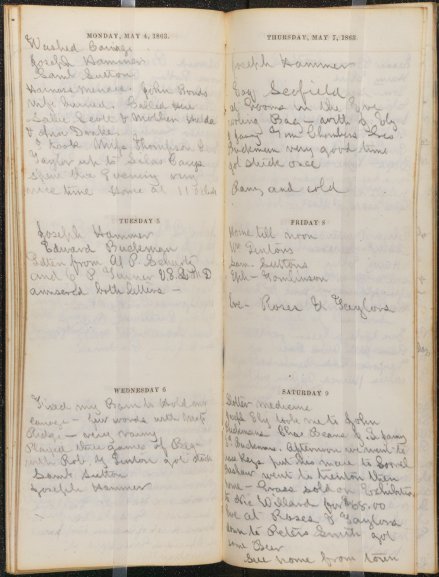 Sunday, May 3
Wm. Linton's
Quaker meeting
Afternoon Moses Paxson
and I took a ride over
to Taylorsville[,] Tytusville[,]
Penington[,] Cross Keys[,]
[Bromigen?][,] Yardleyville[,]
home.  Eve at Taylor's
home at 9 o'clock
Edward Hough of Anderson troop buried
at Episcopal Graveyard at
Yardleyville
*****
Tuesday May 12
Home nearly all day greasing
harnass[sic].  Wrote two letters[,] one
to John Rook and one to
Medical & Surgical Journal.
Eve took G. V. Taylor out
Riding went to Ephraim Tomlinson
who paid me $11.20. came
home – hard thunderstorm
partly
*****
Thursday May 14
Stacy Watson
Esq. Jonathan Schofield
Henry Cornell hauled me
a load of hay from Eliza
Martindale's at .60 [cents] a hund-
Red – weight of the load
2200 lbs
                          Eve at Taylors
Miss Barnsley was there
*****
Thursday, May 21
Called on Wm. Connard
Eve called on Jenney Hough
and G. V. Taylor with Jack Janny
and Barnsley, after that went to
Paxson Store, wine + crackers
Went to Looms Rollney Pag-
[illegible] once Barnsley twice
and Janny once[.] home at [11:00?]
*****
Sunday May 31
Silas Camp[,] Dr. Bonsall[,] and Judge
Hare of Phila. took one then went to
Henry Taylor's[,] looked at Grey Mare then to
Hibbs at Pineville where we bought a
Bay Seladin Mare seven years old for
$185.00.  Loaned Dr. Bonsall $5.00
Dr. Chas. Bonsall $10.00 for funding the
funeral of Amos Clayton's children
buried New Cemetery
Eve. at Rose's