Dear fans and followers, this is it! We've reached the final set of transcriptions from the George F. Parry Civil War diaries (George F. Parry family volumes, Collection 3694). A huge thank you goes out to everyone who took a few moments to check out Parry's life through these transcriptions. Hopefully they were as interesting to read as they were to write!
For anyone just joining us, in 2012 HSP acquired the diaries of Bucks County resident and Civil War veterinary surgeon George F. Parry. In that collection are three diaries he kept during the Civil War dating from 1863 to 1865, when he served with the 7th Pennsylvania Cavalry. In celebration of Parry's work and the 150th anniversary of the Civil War, I've provided monthly posts on Fondly, PA of transcripts of entries from his diaries.
To see other posts in the series, check out the links over on the right-hand side of this page.  Clicking on the diary images will take you to our Digital Library where you can examine the volumes page by page, along with other digitized items from the Parry collection.
*****
In December 1865, Parry only made a few diary entries. Interestingly, he noted having Thanksgiving on December 7th. Beyond that, we can only presume that Parry worked towards resuming his veterinary practice in Bucks County and continued his life of farming with his family.
---
Notes about the transcriptions: I've kept the pattern of Parry's writings as close as formatting here will allow, including his line breaks and spacing. My own additional or clarifying notes will be in brackets [ ]. Any grammatical hiccups that aren't noted as such are Parry's own.
---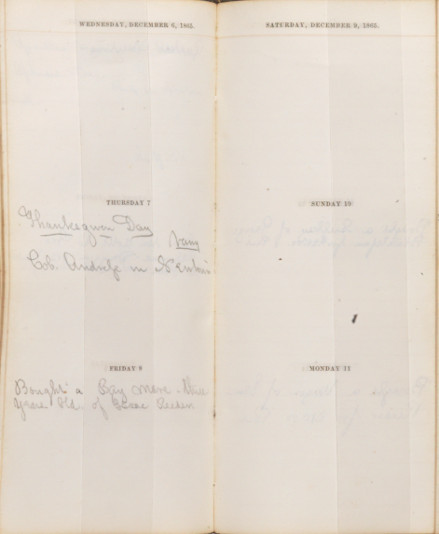 *****
Monday December 4
Sent ten dolls. to Geo
Ashmead, Druggist, 663 Marshall
St., Phila.
*****
Thursday December 7
Thanksgiving Day
Rainy
Col. Andress in Newtown
Friday December 8
Bought a Bay Mare – three
years Old of Isaac Reeder
*****

Wednesday December 13
Bought a Sulkey of George
Blackfan for $25.00    Paid
*****
Thursday December 14
Bought a Wagon of Isaac
Reeder for 210.00        Paid
*****