Welcome back to our regular followers and greetings to new ones! This week, we have here a few more of transcripts from the George F. Parry Civil War diaries (George F. Parry family volumes, Collection 3694). If you're just joining us, several months ago, HSP acquired the diaries of Bucks County resident and Civil War veterinary surgeon George F. Parry. In that collection are three diaries he kept during the Civil War, 1863-1865, when he served with the 7th Pennsylvania Cavalry. In celebration of Parry's work and the 150th anniversary of the Civil War, I'm providing monthly posts on Fondly, PA of transcripts of entries from his diaries.
To see other posts in the series, check out the links over on the right-hand side of this page.  Clicking on the diary images will take you to our Digital Library where you can examine the volumes page by page, along with other digitized items from the Parry collection.
*****
There must have been something in the springtime air as George Parry was quite the social butterfly in April 1863. The leaves of his journal from this time are full of people and dates and places. Parry's detailed entries allow for further glimpses into the man he was before the war. And this time round, we have some notes about current events, namely the hanging of Charles Lewis in Trenton (April 3) and National Fast Day (April 30), which had been proclaimed by President Lincoln in March 1863.
---
Notes about the transcriptions: I've kept the pattern of Parry's writings as close as formatting here will allow, including his line breaks and spacing. My own additional or clarifying notes will be in brackets [ ]. Any grammatical hiccups that aren't noted as such are Parry's own.
---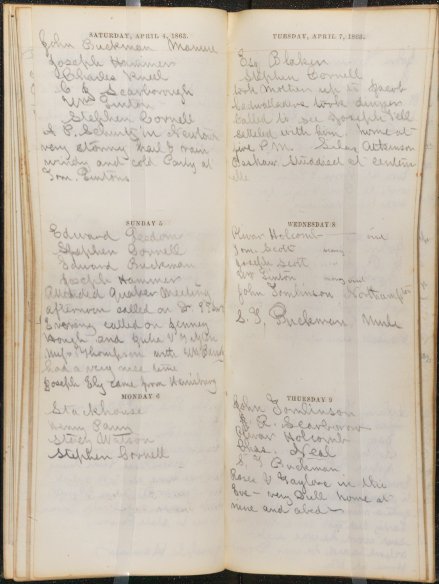 Thursday, April 2
Party at Hendricksons    near Trenton
Edward (Leedovas?) [illegible]
Wm. Linton's   Paid him $60.00
Geo G. Worstal[,] Sam Hutchinson
And I took three girls to a party
Over on [N. P.] near Trenton got
home at five o'clock – [illegible]
a horse for Lewis C. Roberts
Miss Taylor[,] Joseph Thompson and
Will Tomlinson   very fine time
*****
Friday, April 3
J. Ely paid me $20.00
Wm. Linton
Lewis Roberts and I went to
Trenton to see Chas. Lewis hung
who was hung at 12.15 o'clock
took dinner at Amos Clayton
took Louisa and Miss Emma
James to State Prison
Joseph Hammer
*****
Sunday, April 12
John Tomlinson morning
Geo. C, Blackfan, Bonsall
Esq. Scott
Robert Y. Linton
John Ely Place
Eve. whent out to Esq. [illegible]
to attend Eliza Brown's wedding
quite a number their – the wedding
party did not come[,] her man
sent word he was sick
report said he was Drunk
Home at ten
*****
Saturday, April 18
[Job?] Trenton + Chas. Kneel
who paid me $8.00
Bonsall came up from Town
Tom Panny rolling Bagatell
At Grooms – Tom stuck at
Paxsons Store   very nice time
wine and figs + cakes – 10 o'clo[ck]
Barnsley and Jack Panny came
wine + figs – 11 o'clock whent down
to Peter Smiths – rolled two game
of Bag. – I stuck once – very long
time – letter from [illegible]
*****
Thursday, April 23
Jacob Clayton
Joseph Cunningham
Chas. Beans
Smith straddling Horse Back
Chas. Bonsall + Dark a
Ranging the Black Mare
drove her to wagon
very rainy
*****
Tuesday, April 30
To Day was set apart by the
President for fasting and prayer
wrote a letter to Benj. Hough
Sam. Suttons + Wm. Maddock
Horse back   very rainy   got
very wet   Eveing at Grooms
Roses + Taylors some company
their Joseph Potts and some
others