Welcome readers to another installment of transcripts from the George F. Parry Civil War diaries (George F. Parry family volumes, Collection 3694). If you're just joining us, several months ago, HSP acquired the diaries of Bucks County resident and Civil War veterinary surgeon George F. Parry. In that collection are three diaries he kept during the Civil War, 1863-1865, when he served with the 7th Pennsylvania Cavalry. In celebration of Parry's work and the 150th anniversary of the Civil War, I'm providing monthly posts on Fondly, PA of transcripts of entries from his diaries.
To see other posts in the series, check out the links over on the right-hand side of this page. Clicking on the diary images will take you to our Digital Library where you can examine the volumes page by page, along with other digitized items from the Parry collection.
*****
With Parry now in the army, one might think that his adventures would be in full swing! But his diary tells a quieter, tougher story. He spent the first half of the month camped in Mufreesboro, Tennessee, and he spent the rest travelling with his unit further south. During that time, he didn't see much action; but rather, he wrote letters, enjoyed some nice but hot weather, received his own horse, and occasionally attended to injured horses and mules. He also got sick and frequently noted the general lack of food available to soldiers. He also met several individuals from the Philadelphia area.
---
Notes about the transcriptions: I've kept the pattern of Parry's writings as close as formatting here will allow, including his line breaks and spacing. My own additional or clarifying notes will be in brackets [ ]. Any grammatical hiccups that aren't noted as such are Parry's own.
---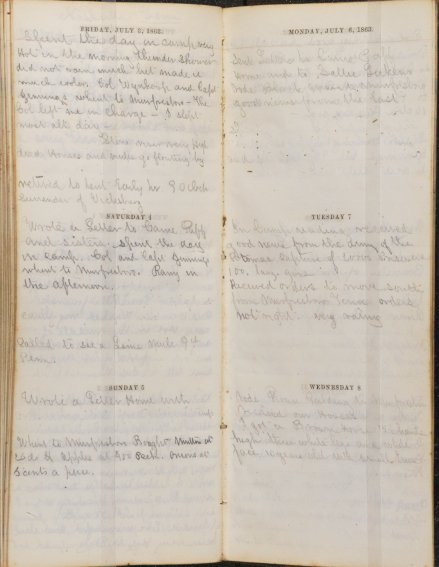 Friday, July 3
Spent the day in camp very
Hot in the morning[,] thunder shower
did not rain much but made it
much cooler. Col. Wynkoop and Capt.
Jennings whent to Mufre[e]sboro –
The Col. left me in charge – I slept
most of the day –
               Stone River is very High
dead horses and mules go floating by
returned to tent early 9 o'clock
Surrender of Vicksburg
*****
Tuesday, July 7
In Camp reading[.] Received
good news from the army of the
Potomac capture of 2000 prisoners
100 large guns.
Received orders to move south
from Mufresboro Tenn[.] orders
not right     very rainy
*****
Tuesday, July 14
In taking my Horse down to
the Stone River to water with Halter
he throwed me off right in a
mud puddle. Had to make a
change of Clothes. Rode down
to Mufresboro and bought some
Provisions. Mutton 2 cts per Potatoes $4 a bu.
Onions 7 cts piece Tomatoes 8 cts piece
Wrote a letter to Miss Armentage
New Brunswick N.J. and sent
it to Post Office
*****
Friday, July 17
Bid good by to Mufresboro
and with the train traveled
South through Shelbyville
where we camped for the
night. Shelbyville is a very
nice country town. I never
felt much worse in my life
tired and sick at my stomach
but the trip was very [nice?]
but Hard.
Encamped in a splendid Grove
On Duck river near Shelbyville
*****
Tuesday, July 21
In Camp in a Handsome Grover near
the base of the Cum-
berland Mountain. Broke camp at
12 o'clock[.] Proceeded South by Winchester
when the train Halted and the rear
of the train was favored with some
music by the Band of the 4th Reg Cav
Encamped in a Grove near Salem
here we joined with the rest of the
Seventh Penn Calvary who
just arrived from Huntsville Ala
slept on the ground under a
White Oak tree. Who [wouldn't?]
be a soldier 13 miles from Ala
*****
Thursday, July 30
got up and took a Survey very
dirty Hungry and nothing to eat
having gone without supper
near Winchester[.] Letter from
Ellie + Cad Paff. Two Papers
from home.
                 Genl Turchison gave
up his command of this division
called on Col. Snipes on my account
offered me a roll of Green Backs
for medical attention on Horse
                  I did not take it
in Camp and in field