Happy summer folks! We're back again with another group of transcripts from the George F. Parry Civil War diaries (George F. Parry family volumes, Collection 3694). If you're just joining us, in 2012 HSP acquired the diaries of Bucks County resident and Civil War veterinary surgeon George F. Parry. In that collection are three diaries he kept during the Civil War dating from 1863 to 1865, when he served with the 7th Pennsylvania Cavalry. In celebration of Parry's work and the 150th anniversary of the Civil War, I'm providing monthly posts on Fondly, PA of transcripts of entries from his diaries.
To see other posts in the series, check out the links over on the right-hand side of this page.  Clicking on the diary images will take you to our Digital Librarywhere you can examine the volumes page by page, along with other digitized items from the Parry collection.
*****
For Parry, June 1864 was a month of heat and fighting. He and his regiment were in northwestern Georgia, and they met the Confederate forces in a number of skirmishes throughout the month. Parry participated in the battles, and things didn't always go so well as he noted several times when his comrades were wounded, killed, or captured. There wasn;t much change during the month -- Parry trudged through the Southern heat same in the beginning of the June as at the end of it.
---
Notes about the transcriptions: I've kept the pattern of Parry's writings as close as formatting here will allow, including his line breaks and spacing. My own additional or clarifying notes will be in brackets [ ]. Any grammatical hiccups that aren't noted as such are Parry's own.
---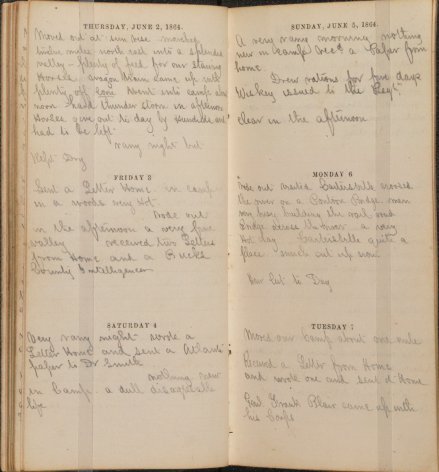 *****
Wednesday, June 1
Order to be ready to move
at Light. Moved to the rear
towards Kingston eight miles[.]
very warm Dusty day[.] Horses starving
to death by Hundreds.
*****
Monday, June 6
Rode out[,] visited Cartersville[.] crossed
the river on a Pontoon Bridge. men
very busy building the rail road
Bridge across river[.] a very
Hot day. Cartersville quite a
Place[.] much out up now.
Hair Cut to Day
*****
Saturday, June 11
Up a[t] three O'Clock and moved
out on the Rebels at five. Move[d]
them back Eight miles. had a hard
fight with them[.] one man in our
Reg't Killed and many wounded
this was a very exciting day
I took a fine coffee pot
*****
Thursday, June 16
Rec'd a Letter from Home. Moved
on the Rebels at 12 [M?]. attacked
them on the West while Infantry
did on the north. a very exciting
day – our forces very successful
Slept most all day[.] moved out
At 5 P.M. to the Right
*****
Monday, June 20
Rec'd a Letter from Home –
                          Moved on the
Rebels and marched cautiously[.] a
very exciting day.
                          Rebels attacked
us in the afternoon and drove us
back – very severe fighting – num-
ber in our Reg't Killed + wounded
Capt Newton taken prisoner
Rainy in the Afternoon
*****
Saturday, June 25
A very warm Day[.] lying Still
All Day in Camp[.] I wrote
A Letter to Miss Lukens +
Julia V. Taylor. Rec'd a mail
[one?] letter from Sue[,] a news-
Paper. Drew rations till
July 1st.
             Mail went out at [illegible]
*****
Thursday, June 30
Rode out in the morning and
Took a view of the Rebel works[.]
Regiment went out on a scout
Mail[,] came back with no Letters for me
Hard rain in afternoon – very
Hot – flies [blow?] every thing –
Blankets[,] Coat &c.
*****