Hello all! Thanks for coming back to our blog for more transcriptions from the George F. Parry Civil War diaries (George F. Parry family volumes, Collection 3694). If you're just joining us, in 2012 HSP acquired the diaries of Bucks County resident and Civil War veterinary surgeon George F. Parry. In that collection are three diaries he kept during the Civil War dating from 1863 to 1865, when he served with the 7th Pennsylvania Cavalry. In celebration of Parry's work and the 150th anniversary of the Civil War, I'm providing monthly posts on Fondly, PA of transcripts of entries from his diaries.
To see other posts in the series, check out the links over on the right-hand side of this page.  Clicking on the diary images will take you to our Digital Librarywhere you can examine the volumes page by page, along with other digitized items from the Parry collection.
*****
August 1864 was both routine and probably melancholy for Parry. The fighting in and around Atlanta, Georgia, of the previous month had slowed down a little (or at least he didn't note seeing much action), but it didn't stop. During the month Parry wrote about a little about everything, from receiving items from home to condemning the regiment's animals to the deaths of a number of soldiers. Parry's regiment didn't move drastically over the course of August 1864, though Parry mentioned late in the month that his regiment had detached from a brigade and made camp elsewhere.
---
Notes about the transcriptions: I've kept the pattern of Parry's writings as close as formatting here will allow, including his line breaks and spacing. My own additional or clarifying notes will be in brackets [ ]. Any grammatical hiccups that aren't noted as such are Parry's own.
---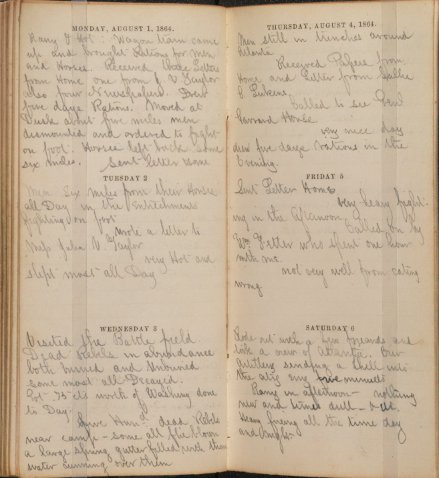 *****
Monday, August 1
Rainy & Hot. Wagon train came
up and brought Rations for Men
and Horses. Received three Letters
from Home[,] one from J. V. Taylor[,]
also four newspapers. Drew
five days Rations. Moved at
Dusk about five miles[.] men
dismounted and ordered to fight
on foot. Horses left back some
six miles.     Sent letter Home.
*****
Friday, August 12
Condemned 15 Horses[,] turned lose[sic]
Killed 2 Horses. [Yancy?] rode out
in afternoon with Capt. Hilbury[,] found
my Rebel Horse with [illegible] 5th Mich.
Infantry. got him after much
Work.   Received one Hat and
Two Newspapers from Home
also some other things. ----
*****
Sunday, August 14
Sent a Letter Home[.] a Warm
Day and some rain.
                          Drew rations
For 5 days.
                          Buried Bob.
Bridgen  E Co.
                          Rode out in the Eve.
with Capt. Newcomer, White & Harthranft[sic]
to view Atlanta – on fire from our
shells --- a grand sight.
*****
Monday, August 22
My Birthday.       26 years old
                        Traded my Horse
Rosencrans off four a sorrell one[.]
Took dinner with Dr. Able and
Wm. Yeller.  Pay time.
Rode out with them after Dinner
to Pine Mt. and took a view of the
Country.      Rec'd a Letter from Mo-
ther[.]        Sent a letter Home.
*****
Tuesday, August 23
Up a light and joined the command
at or near Atlanta. Bad news[:] the
Regiment lost 52 men and Capt.
Taylor White Thompson and
Lieut. Hermens. All good men. the
4th Regulars lost also [Heany?]. this
Raid destroyed the Rail Road
between Atlanta and Macon[,]
also burnt one town.
                     Rec'd Papers from Home[.]
Dr. Able dined with me.
*****
Saturday, August 27
Our Regiment detached from the
Brigade[,] moved camp to near
Station.
                Rec'd two letters from Home
and $300[,] also two Papers
                Rec'd a Letter from
Russell Thayer in regard to
Vet. Surgeon Rank.
*****