Hello again folks, and thank you for coming back to Fondly, Pennsylvania this month for more transcriptions from the George F. Parry Civil War diaries (George F. Parry family volumes, Collection 3694). If you're just joining us, in 2012 HSP acquired the diaries of Bucks County resident and Civil War veterinary surgeon George F. Parry. In that collection are three diaries he kept during the Civil War dating from 1863 to 1865, when he served with the 7th Pennsylvania Cavalry. In celebration of Parry's work and the 150th anniversary of the Civil War, I'm providing monthly posts on Fondly, PA of transcripts of entries from his diaries.
To see other posts in the series, check out the links over on the right-hand side of this page.  Clicking on the diary images will take you to our Digital Library where you can examine the volumes page by page, along with other digitized items from the Parry collection.
*****
February 1864 marked Parry's temporary stay in Bucks County, Pennsylvania, as he had received a furlough at the end of the January. Parry quickly found himself once again in full "social butterfly" mode as he spent much of the month getting back in touch with people and paying frequent visits to family and acquaintances. For most of February he was in Newtown, but he made a few trips to Philadelphia, including one at the end of the month that signified the end of his furlough.
---
Notes about the transcriptions: I've kept the pattern of Parry's writings as close as formatting here will allow, including his line breaks and spacing. My own additional or clarifying notes will be in brackets [ ]. Any grammatical hiccups that aren't noted as such are Parry's own.
---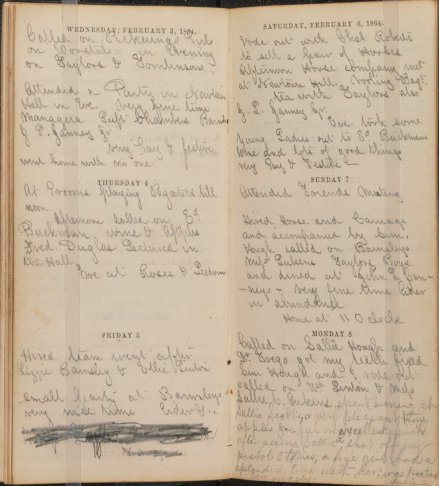 *****
Tuesday, February 2
Went with Dr. Smith to Edgwood
and around to see his patients
Dined with Smith
                           Eve. at Taylors
and roses[.] a few choice words with
Blaker about a bill he having
me charged with shirting &
never got. He is to be remem-
bered by me. revenge.
*****
Saturday, February 6
Rode out with Chas. Roberts
to sell a pair of Horses[.]
Afternoon House company met
at Newtown Hall. rooling Bag't [bagatelle]
                          tea with Taylors also
J. S. Janny Jr.
                          Eve. took some
Young Ladies out to Ed. Buckmans
Wine and lots of good things
Very Gay & festive ----
*****
Friday, February 12
Called on Sam'l Philips[,] Wm.
Barsley = with Sim Hough
& David leedom = got Cider
and Apples –
                  Eve. a very fine
Party ay Houghs[.] took Miss
Lukens & Tomlinson[.] good
time at Party and Tomlinson
Home at [illegible] AM
J. S. Beets at our House & Wife
*****
Thursday, February 18
Called on Pickerings Girls
Sallie Lukens called[,] then
Accompanied her to Barnsleys[.]
Afternoon took Miss Willie
Barnsley & Sallie Hough up
to Carys.
                  Eve. took Miss
Taylor down to Wm. Paffs
Party[.]   very good time
*****
Thursday, February 25
Called on Miss Lukens at
Tomlinsons. Headack all Day.

Eve. bid Miss Paff & Barn-
sley good by –
Called at Barnsleys in Eve.
Settled with Geo. A Jenks Esq.
Received [$45.90?] in cash
got my photograph taken
                                 at Philips
*****
Monday, February 29
Bid good by to Philadelphia
accompanied to Depot by
Gen. Roberts. Left Phila. 11.40
P.M. arrived in Harrisburg
at 5 A.M. reported at Camp
Curtin.
               Col. Sipes informed me
at the Hotel all right ---
received several Letters[,] old ones
sent a letter Home
*****