Hello! This month I'm happy to present another round of transcripts from the George F. Parry Civil War diaries (George F. Parry family volumes, Collection 3694). If you're just joining us, several months ago, HSP acquired the diaries of Bucks County resident and Civil War veterinary surgeon George F. Parry. In that collection are three diaries he kept during the Civil War, 1863-1865, when he served with the 7th Pennsylvania Cavalry. In celebration of Parry's work and the 150th anniversary of the Civil War, I'm providing monthly posts on Fondly, PA of transcripts of entries from his diaries.
To see other posts in the series, check out the links over on the right-hand side of this page.  Clicking on the diary images will take you to our Digital Library where you can examine the volumes page by page, along with other digitized items from the Parry collection.
*****
As Parry and his regiment continued on through Tennessee, he consistently noted one thing – it was hot! Despite the weather, he spent much of the month travelling from camp to camp, occasionally noting the harsh conditions, the need to forage for food, and the wildlife. This month Parry also celebrated his birthday (August 22nd -- he turned 25), and noted August 9th as a day of fasting and prayer. Additionally, he remained in contact with friends and family from home through letters and received from them local papers, which allowed him to keep abreast of Pennsylvania news.
---
Notes about the transcriptions: I've kept the pattern of Parry's writings as close as formatting here will allow, including his line breaks and spacing. My own additional or clarifying notes will be in brackets [ ]. Any grammatical hiccups that aren't noted as such are Parry's own.
---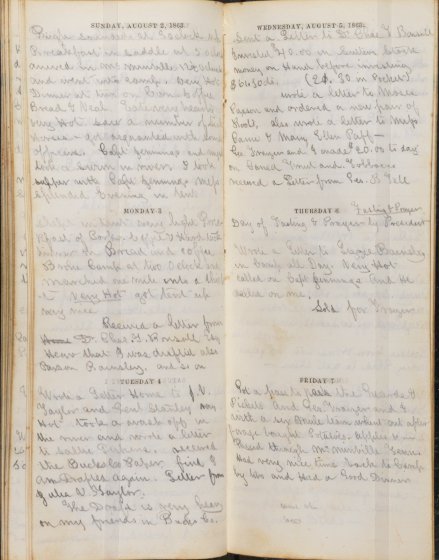 Sunday, August 2
Bugle sounded at 3 o'clock up
Breakfast[.] in saddle at 5 o'clock
arrived in McMin[n]ville 12 o'clock
and went into camp. Very hot[.]
Dinner at two on corn[,] coffee
Bread + Veal. Eate very hearty[.]
Very hot. saw a number of sick
Horses – hot acquainted with some
officers. Capt Jennings and myself
took a swim in the river. I took
supper with Capt Jennings [miss?]
splendid evening in tent.
*****
Tuesday, August 11
Wrote a Letter home – very
Hot. down to the river with
G. F. Frazier took a swim
a most splendid place and
the water delightful!
                              Received
three Papers from Home[,] the
Bucks Co. + the Phila Press
         Glad to get them
                 Hot
*****
Friday, August 14
found some horses in the Woods hid
up[.] been there two days + nights with[-]
out anything to eate. reported them.
Wrote a letter to Genl. Stoneman
very ine cool rain. very nice
Wiskey in Camp by Frazier
no letter to Day[,] expectations
not gratified
                      Had some Cider
*****
Wednesday, August 19
Breakfast on Hog[,] Coffee + Potatoes
Collum began to move[,] rode on ahead
very nice time. splendid scenery
accompanied by Isaac Ruth
Encamped on Mount. Killed a
very large rattle snake[,] ten rattles
one killed with 13 rattles
very Large
                      very cool night[,] slept
well but cold
*****
Sunday, August 23
Number of Boys went out a
Foraging – Had a very fine time
got any quantity of Peaches and
Fruit. Found a Plantation in the wilderness
that had never been visited by the Union
Soldiers – muched pleased to see us[,] had never
Saw Yankeys before. Got us a very good
Dinner[,] feed our Horses and then
proceeded to our Camp at Pikeville
Plenty of Peaches and very Hot
*****
Sunday, August 30
Smith Crossroads Tenn.
in Camp in a Dismal place
no tents and no cooking utensils
Have to Eate with sticks. Roast
Corn + Potatoes. Letter + Papers
From Home – Letter from Sue
very nice Day.
                       Sent in a
Requisition for Medicine –
Called on Col. Minty –
no use