Hello readers and happy pre-holidays! This month, we're more than pleased to bring you another series of entries from the George F. Parry Civil War diaries (George F. Parry family volumes, Collection 3694). If you're just joining us, in 2012 HSP acquired the diaries of Bucks County resident and Civil War veterinary surgeon George F. Parry. In that collection are three diaries he kept during the Civil War dating from 1863 to 1865, when he served with the 7th Pennsylvania Cavalry. In celebration of Parry's work and the 150th anniversary of the Civil War, I'm providing monthly posts on Fondly, PA of transcripts of entries from his diaries.

To see other posts in the series, check out the links over on the right-hand side of this page.  Clicking on the diary images will take you to our Digital Library where you can examine the volumes page by page, along with other digitized items from the Parry collection.

*****
In November 1863, we find Parry and his regiment travelling through Northern Alabama to Huntsville. Parry's entries this month were much shorter than in previous months, consists mostly of single sentences.  He may have been very busy or unable to write frequently given how much ground the regiment covered in just about a month's time. Or, as Northern Alabama was somewhat unpopulated, perhaps there wasn't much to write about.
---
Notes about the transcriptions: I've kept the pattern of Parry's writings as close as formatting here will allow, including his line breaks and spacing. My own additional or clarifying notes will be in brackets [ ]. Any grammatical hiccups that aren't noted as such are Parry's own.
---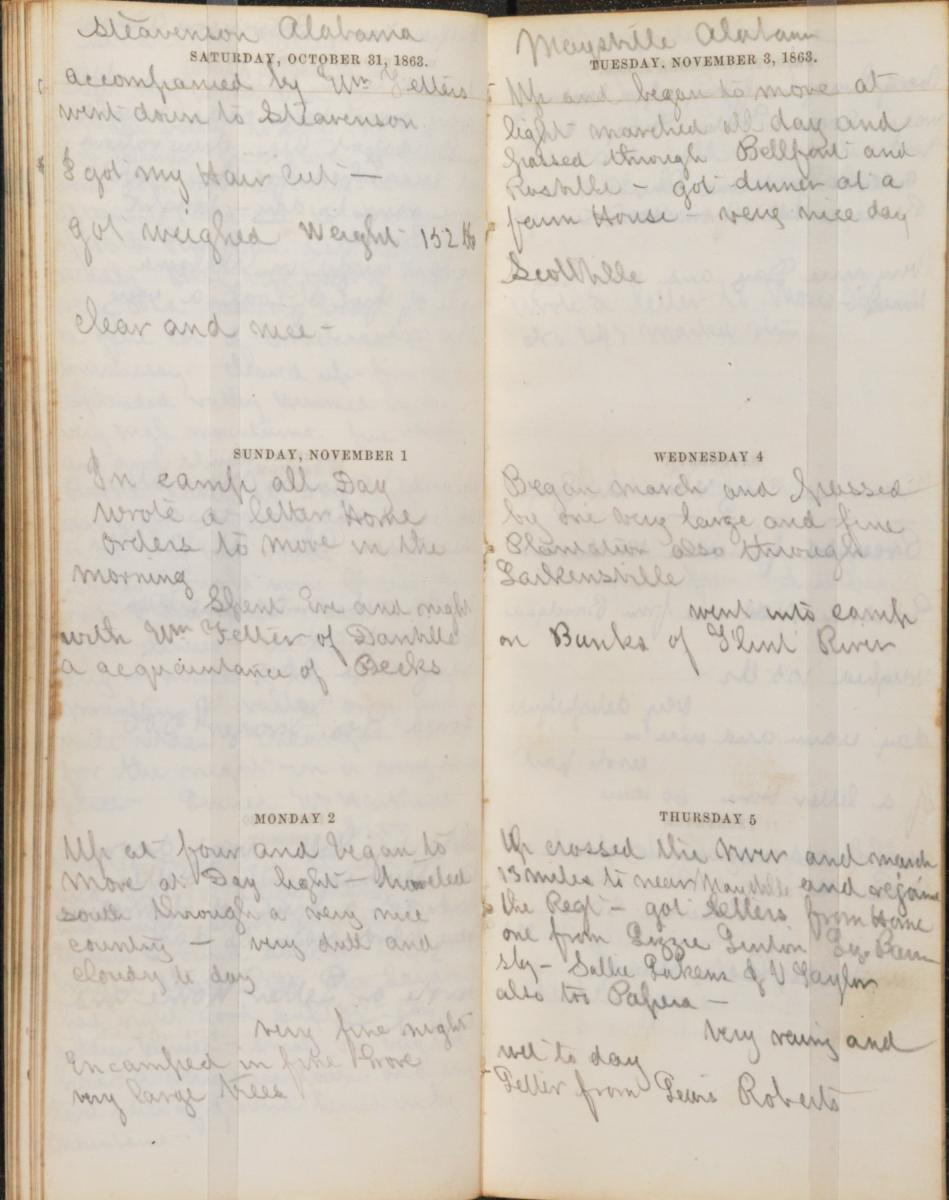 Monday, November 2
Up at four and began to
Move at Day light – headed
South through a very nice
Country – very dull and
Cloudy to day
      very fine night
Encamped in fine Grove
very large trees
*****
Saturday, November 7
Examined every Horse in Regt
Presented for near 100 Horses
Got some Medicine from Bridgade[sic]
Weight 155 lbs –
  Very delightful
Day warm and nice –
   Wrote part
Of a letter home     60 Horses
*****
Monday, November 13
Reported Sergt Palmer for
indulgence and refusing
to obey orders (to Col Sipes)
Wrote a Letter Home[,]
ordered my Boots to be
sent by Hillier + Burge
*****
Wednesday, November 18
Maysville Alabama
Rept. Went on Scout after-
noon. I rode out into the
Country and called on the
Miss Connelys
  Received Papers
from home[,] also Letters
Attended Horse race
*****
Wednesday, November 25
Condemned 27 Horses and sent
to Nashville[.] Broke camp and
after a very nice march arrived
at Huntsville[,] one of the finest
towns I ever saw. Evening Frazier
and I took a Stroll around Town[.]
Our Boys had a Party – Dancing
Our Regt Encamped in Houses in
Town – and Col. Sipes[,] Provo Marshall[,]
and our Boys Provo [Lands?]—
very cold and frosty
*****
Monday, November 30
Huntsville Alabama
afternoon Fetter and I took
a walk around Town –
spit at by some young ladies
wrote a Letter to Benj Hough
Eve. Major Jennings and I had
A very gay tim with some
Friends – staid[sic] all night with
Major
                   A. Y.  M. xx Pay and
*****