Happy Fall to you all! And thanks for returning to HSP's Fondly PA blog for another set of transcriptions from the George F. Parry Civil War diaries (George F. Parry family volumes, Collection 3694). If you're just joining us, in 2012 HSP acquired the diaries of Bucks County resident and Civil War veterinary surgeon George F. Parry. In that collection are three diaries he kept during the Civil War dating from 1863 to 1865, when he served with the 7th Pennsylvania Cavalry. In celebration of Parry's work and the 150th anniversary of the Civil War, I'm providing monthly posts on Fondly, PA of transcripts of entries from his diaries.
To see other posts in the series, check out the links over on the right-hand side of this page.  Clicking on the diary images will take you to our Digital Library where you can examine the volumes page by page, along with other digitized items from the Parry collection.
*****
Parry spent November 1864 in two states: Tennessee and Kentucky. At the very beginning of the month, Parry and his regiment set out for Nashville, Tennessee, and they made several stops along the way, including a stop on the outskirts of Chattanooga for horses.  Parry's travels did not keep him away from the polls ("voted for Lincoln & Johnson" – 11/8/64), his spirits remained in good order despite the generally rainy and cold weather he encountered. After spending some time in and around Nashville, he arrived in Louisville, Kentucky, close to the end of the month. He apparently had a decent amount of downtime as he noted attending the Louisville Theatre several times before the month's end.
---
Notes about the transcriptions: I've kept the pattern of Parry's writings as close as formatting here will allow, including his line breaks and spacing. My own additional or clarifying notes will be in brackets [ ]. Any grammatical hiccups that aren't noted as such are Parry's own.
---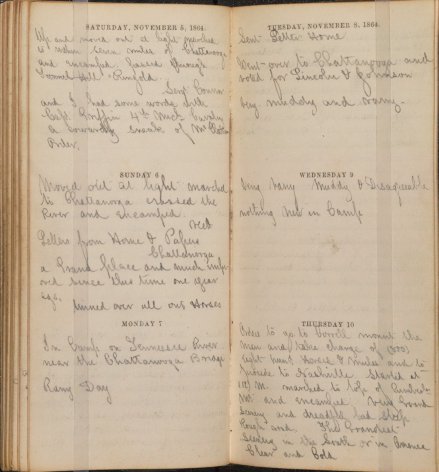 *****
Tuesday, November 1
Signed pay Rolls
                                 turned over
Saddles + equipments, those who
had no Horses and at 12 noon
started for Nashville[.] passed
through Rome and encamped on
Calhoun Road[.]           a very rainy
night.
*****
Saturday, November 5
Up and moved out at light[.] marched
to within seven miles of Chattanooga
and encamped. Passed through
Tunnel Hill and Ringold.
                                  Sergt. Connor
And I had some words with
Caot. Griffin[,] 4th Mich. Cavalry
a cowardly sneak of Mc[illegible]
order.
*****
Thursday, November 10
Orders to go to Correll mount the
Men and take charge of (800)
eight hund. Horses + mules and to
procede[sic] to Nashville[.] Started at
[illegible] M. marched to top of Cumberl[and]
Mt. and encamped.  Very grand
Scenery and dreadful bad sleep[,]
Rough road.   The Grandest
Scenery in the South or in America[.]
Clear and cold
*****
Tuesday, November 15
Rainy morning – moved out at
eight O'clock + marched twenty
miles (22) on to Woodbury and
camped.         Drew five Days
Rations.--        very disagreeable
Day --
                 Eve. Conner, Limerick
and I attacked by a fine
corn fed Hog and we killed
him after a Hard fight for
our own private use.
*****
Sunday, November 20
Arrived in Louisville – Dirty,
tired + Hungry having gone
without sleep for 48 hrs and
with very little to eat – got
Shaved + Breakfast and proceded[sic]
Out to camp.
                       Erected quarters.
very cold – no wood and very
disagreeable. Rec'd Letter from
Miss Lukens + Paper from Home.
*****
Wednesday, November 30
Called on Paymaster at Lousiville
and rec'd Pay to October 31, 1854
ammounting[sic] to $1208.27[,] twelve hund. And
eight Doll[ars]. and twenty Seven cts.
             Paid Major Jennings $65.00 due him
on note.       Sent by Adams express
Co. to Phila. for Susan Parry $1000.00
Sent Joseph Willard $5.00 Due him.
Eve. attended Louisville Theatre[,] saw
Cora Hudson play Mazzeppa or the
Wild Horse of Tartan.
*****