Season's greetings everyone! Welcome back to another edition of entries from the George F. Parry Civil War diaries (George F. Parry family volumes, Collection 3694). If you're just joining us, in 2012 HSP acquired the diaries of Bucks County resident and Civil War veterinary surgeon George F. Parry. In that collection are three diaries he kept during the Civil War dating from 1863 to 1865, when he served with the 7th Pennsylvania Cavalry. In celebration of Parry's work and the 150th anniversary of the Civil War, I'm providing monthly posts on Fondly, PA of transcripts of entries from his diaries.
To see other posts in the series, check out the links over on the right-hand side of this page.  Clicking on the diary images will take you to our Digital Library where you can examine the volumes page by page, along with other digitized items from the Parry collection.
*****
George Parry spent the bulk of December 1863 in northern Alabama, particularly the city of Huntsville, where he seemed to have a fine time. Among his non-military activities were a couple horse races, church services, and social engagements.  It wasn't until close to the end of the month that Parry's regiment began its march once again. On Christmas Eve, he said farewell to Huntsville as the regiment moved north towards Tennessee.  He ended up in the southern part of that state by the very end of the month.
---
Notes about the transcriptions: I've kept the pattern of Parry's writings as close as formatting here will allow, including his line breaks and spacing. My own additional or clarifying notes will be in brackets [ ]. Any grammatical hiccups that aren't noted as such are Parry's own.
---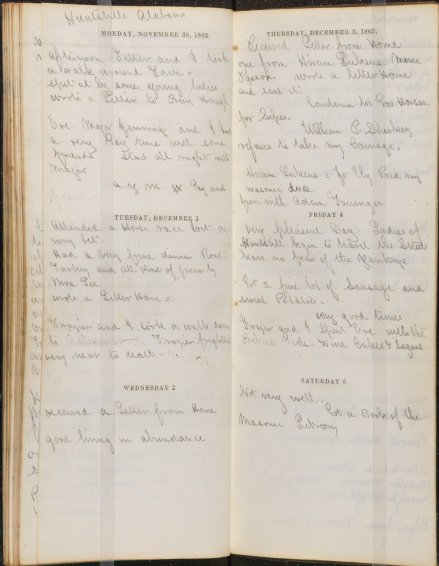 Friday, December 4
Very pleasant Day. Ladies of
Huntsville begin to travel the Streets
Have no fear of the Yankeys.
Got a fine lot of sausage and
sweet potatoes.
                      very good times
Frazer and I Spent Eve. with the
Bakers' Girls[.] Wine[,] Cakes + Segars
*****
Thursday, December 10
attended a Funeral of a Member
of our Regt. buried  in the Episcopal
Cemetery in Military Style. Father
Tracy preached = 4 Regt. Band played
Horse race =
very fine day
Received Letter from Home + two News
Papers
*****
Tuesday, December 15
Received Letter from Home and
Four Papers[,] also a letter
from Lizzie Linton[.]
attended a Masonic Lodge
met Springer and Lieut. McCormick
one Brother raised to Sublime
Degree of Master Mason
*****
Monday, December 21
Huntsville, Ala.
Very fine day[,] received a
Invitation to call on Mrs. Lea
and Sisters.
Spent the evening at Mrs. Lewis[.]
Had a gay time[,] music by Miss Lewis
a Hot Headed Rebel – Had much
sport with her.
                    Frazier and I
slept at Mrs. Montgomerys
*****
Friday, December 25
Up at five[,] began to move
at Daylight[,] passed through
Athens and marched till
9 o clock at night – a very
cold cloudy day[,] very disa-
greeable day.
Encamped on Elk River
opposite Elktown, Tennessee
*****
Wednesday, December 30
Pluaski [Pulaski], Tenn.
Picked out 14 Horses
for Genl. Brooks
Turned over my medicine
To Div. Hd. Qrts.
Nice day –
men being mustered in
rainy evening
*****