Greetings one and all. Welcome back to Fondly, Pennsylvania for more transcriptions from the George F. Parry Civil War diaries (George F. Parry family volumes, Collection 3694). If you're just joining us, in 2012 HSP acquired the diaries of Bucks County resident and Civil War veterinary surgeon George F. Parry. In that collection are three diaries he kept during the Civil War dating from 1863 to 1865, when he served with the 7th Pennsylvania Cavalry. In celebration of Parry's work and the 150th anniversary of the Civil War, I'm providing monthly posts on Fondly, PA of transcripts of entries from his diaries.
To see other posts in the series, check out the links over on the right-hand side of this page.  Clicking on the diary images will take you to our Digital Library where you can examine the volumes page by page, along with other digitized items from the Parry collection.
*****
Parry began May 1864 worlds away from where it would end, in a peaceful camp in Shelbyville, Tennessee. From there his regiment traveled south towards Georgia. The further they got, the more fighting they saw. This month marked the beginning of the Atlanta Campaign, with several notable battles taking place in Georgia. While Parry remarked upon different instances of fighting throughout the month, his notes concerning what we now know as the Battle of Dallas (May 26-June 1) are particularly moving. As bad off as the men often were, things were no better for the regiment's horses, as Parry also often noted.
---
Notes about the transcriptions: I've kept the pattern of Parry's writings as close as formatting here will allow, including his line breaks and spacing. My own additional or clarifying notes will be in brackets [ ]. Any grammatical hiccups that aren't noted as such are Parry's own.
---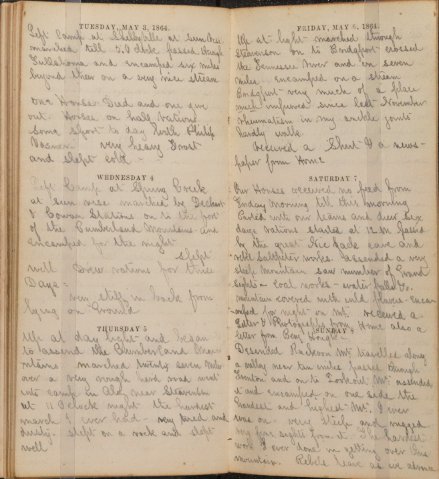 *****
Tuesday, May 3
Left Camp at Shelbyville at sunrise[.]
Marched till 5 O'clock passed through
Tullahoma and encamped six miles
beyond there on a very nice stream
one Horse Died and one give[sic]
out. Horses on half-rations
Some sport to day with Philip
Vosmer.  Very heavy Frost
and slept cold.
*****
Saturday, May 7
Our Horses receive no feed from
Friday Morning till this morning[.]
Parted with our teams and drew six
days rations[.] started at 12 M. passed
by the great Nic Jack cave and
rebel Saltpeter works. ascended a very
steep mountain[,] saw number of Grand
sights – coal works – water falls, &c.
mountain covered with wild flowers – enca-
mped for night on Mt. received a
Letter  + photographs from Home[,] also a
letter from Benj. Hough.
*****
Thursday, May 12 [written above date: "Vilino"]
Encamped all Day in woods at cross roads[,]
destroyed the town and the men burnt many
Houses[.] Heavy fighting on our left[,] saw
seventy five rebel prisoners pass by[.]
good news from the Potomac Army
very dirty but have plenty to eat to Day
Sergt. In Co. B shot through the
Heart by accident. Died instantly.
Sergt. Longwell More shot him.
*****
Wednesday, May 18
Moved at Six O'clock. Marched
very slow an cautiously all day
south by east. Rebels leave as we
advance.  Rations run out – very
Hungry – clear day and warm –
Our men in afternoon had a fight at King-
ston[,] some sixty 4th Mich. Lost. our
Brigade surrounded by Rebels. we
captured a few. things rather squally
Wilders men cut the Rail Road + Telegraph
between Rome and Kingston.
*****
Tuesday, May 24
Up at three and marched at Six
through a very rich productive country[.]
Took from a plantation two Hams – and
other eatables. Our forses[sic] came into
the Rebels at Dallas. Had a fight.
number killed + wounded. we fell
back to camp for the night.
suffered badly in afternoon + evening
with cramp in Stomach + Bowels
ate no supper[,] slept in an old barn.
*****
Sunday, May 29
                       found my blankets + Rations
had some breakfast. Dallas full of Woun-
ded[,] dead and dieing[sic]. Most dreadful
sights. All kind of surgical operations
on hand. Major Jennings and I went
back to wagon train. Moved to left at
night. Very heavy fighting in the night
on left off[sic] our Army. Major Jennings and
I slept on Pumpenkin Creek. This has
been a dreadful day.
*****