Hello again to our readers! We're back this month with another set of transcriptions from the George F. Parry Civil War diaries (George F. Parry family volumes, Collection 3694). If you're just joining us, in 2012 HSP acquired the diaries of Bucks County resident and Civil War veterinary surgeon George F. Parry. In that collection are three diaries he kept during the Civil War dating from 1863 to 1865, when he served with the 7th Pennsylvania Cavalry. In celebration of Parry's work and the 150th anniversary of the Civil War, I'm providing monthly posts on Fondly, PA of transcripts of entries from his diaries.
To see other posts in the series, check out the links over on the right-hand side of this page.  Clicking on the diary images will take you to our Digital Library where you can examine the volumes page by page, along with other digitized items from the Parry collection.
*****
February 1865 was not a terribly exciting month for Parry, though he did note several occasions in which he dealt with the regiment's horses. He didn't mention much extensive movement, so it's likely he rode out a wintry and often "disagreeable" February around the outskirts of Nashville, Tennessee.
---
Notes about the transcriptions: I've kept the pattern of Parry's writings as close as formatting here will allow, including his line breaks and spacing. My own additional or clarifying notes will be in brackets [ ]. Any grammatical hiccups that aren't noted as such are Parry's own.
---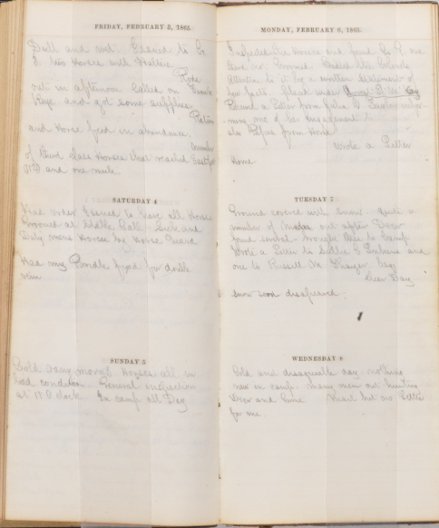 *****
Friday, February 3
Dull and wet.  Issued to Co.
I two Horses with Halters.
                                          Rode
out in afternoon.  Called on Frank
Keys and got some supplies.
                                          Rations
and Horse fed in abundance.
                                          Number
of third class Horses that reached Eastport
(112) and one mule
*****
Sunday, February 12
Sick but on duty[,] slept most
all day – had chill (etc.)  rode out
after dinner.   preaching in camp
by 4th Mich. Chaplin.    Splendid
Day and more like a Sunday
than any other day for a long time[.]
                                                            Dress
parade Band out – any thing splen-
did[.]          Col. McCormick first appe-
arance on dress parade.
*****
Thursday, February 16
Thunder Storm in the moon [illegible] cleared
up fine and warm – Rec'd new
pair of Pants from Tailor and put
them on[,] also new Boots.
                                                Inspected
the Horses and clasfied[sic] according
to Orders from war dept. in four
classes.
*****
Friday, February 24
Dull Day – very muddy for the Horses
Made a new place for to Confine
our Horses.
                        nothing new in camp[.] rumor
sais(sic) will start for Mobile in few days[.]
Fourty rebels came into our lines and
gave themselves up.
                                    Mail came[,] no
letters or papers for me.
*****
Tuesday, February 28
Nothing new in Camp[.] Mustered
Reg't in afternoon on Drill[.]
Bob Johnson and I rode down
to the river and Saw Gun Boat
and was taken over it by the
commander – a surgeon from
Chester on board.
                                    Small mail of
eight Letters arrived.
*****