Welcome once again dear readers to Fondly, Pennsylvania and more transcriptions from the George F. Parry Civil War diaries (George F. Parry family volumes, Collection 3694). If you're just joining us, in 2012 HSP acquired the diaries of Bucks County resident and Civil War veterinary surgeon George F. Parry. In that collection are three diaries he kept during the Civil War dating from 1863 to 1865, when he served with the 7th Pennsylvania Cavalry. In celebration of Parry's work and the 150th anniversary of the Civil War, I'm providing monthly posts on Fondly, PA of transcripts of entries from his diaries.
To see other posts in the series, check out the links over on the right-hand side of this page.  Clicking on the diary images will take you to our Digital Librarywhere you can examine the volumes page by page, along with other digitized items from the Parry collection.
*****
Parry's furlough that started in the previous month was over in early March 1864, and at the beginning of the month he was headed back down South. He spent the rest of the month in camp at Nashville, Tennessee. He remained quite social despite the weather which was, apparently, quite "disagreeable" throughout most of the month. At the end of March, his new appointment as the regiment's veterinary surgeon was drawn up and his service continued.
---
Notes about the transcriptions: I've kept the pattern of Parry's writings as close as formatting here will allow, including his line breaks and spacing. My own additional or clarifying notes will be in brackets [ ]. Any grammatical hiccups that aren't noted as such are Parry's own.
---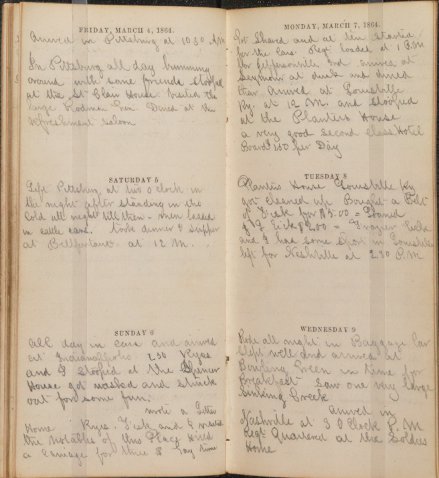 *****

Thursday, March 3
Spent a few moments with
Capt. Comfort of 20th P. A. Cavalry
Wrote a Letter Home and sent
it[.] called up at Senat(e) with
Dr. Ryes. Orders to leave at 2 A. M.
took cars for Pittsburg at 4 A. M.
fine day[,] saw Frank Buckman at
Camp Curtin

*****
Monday, March 7
Got Shaved and at ten started
for the Cars. Rept. loaded at 1 P. M.
for Jeffersonville and arrived at
Seymour at dusk and dined
their[sic][.] Arrived at Lousiville
Ky. at 12 A. M. and [stopped]
at the Planters House
a very good second class hotel
board $1.50 per Day

*****

Wednesday, March 16
Got a Pass[,] wet to Nashville
Cold & Blustery
                        Took dinner
at a Saloon[,] very good one
with Frank Keys[.] rode out
to Camp in the Ambulance
very cold and disagreeable

*****

Friday, March 25
Looked over the war department
orders.  slept till noon[.]
Wrote a litter Home[,] very
rainy and wet in afternoon
tent much like a cradle –
Keys and I walked over to the
Fourth Regulars' Camp
*****

Tuesday, March 29
A very disagreeable Day. in
Camp all day[.] Our new Surgeon
Came. Col. Sibert drew up my
New appointment. In Evening Dr.
Keys went to Nashville[,] got our
Hair dressed + some ale and attended
The new Theatre. Miss Charlot[sic] [illegible]
Played Little Bare Foot and
Played it very well. took a lunch and
then started for Camp and after
running the Pickets arrived in Camp
at 2 O'Clock P. M.
*****