Hello readers! Thanks for returning for another round of transcripts from the George F. Parry Civil War diaries (George F. Parry family volumes, Collection 3694). Here's a quick recap of this project. HSP recently acquired the diaries of Bucks County resident and Civil War veterinary surgeon George F. Parry. In that collection are three diaries he kept during the Civil War, 1863-1865, when he served with the 7th Pennsylvania Cavalry. In celebration of Parry's work and the 150th anniversary of the Civil War, I'm providing monthly posts on Fondly, PA of a few transcripts from his diaries.
To see other posts in the series, check out the links over on the right-hand side of this page.  Clicking on the diary images will take you to our Digital Library where you can exmaine the volumes page by page, along with other digitized items from the Parry collection.
*****
In March 1863, we find Parry still enjoying the frequent company of friends. However, this time we get a small mix of the personal and the professional in his entries. But make no mistake; Parry was certainly something of a social butterfly!  Read on to find out just what he was doing and who he was seeing.
---
Notes about the transcriptions: I've kept the pattern of Parry's writings as close as formatting here will allow, including his line breaks and spacing. My own additional or clarifying notes will be in brackets []. Any grammatical hiccups that aren't noted as such are Parry's own.
---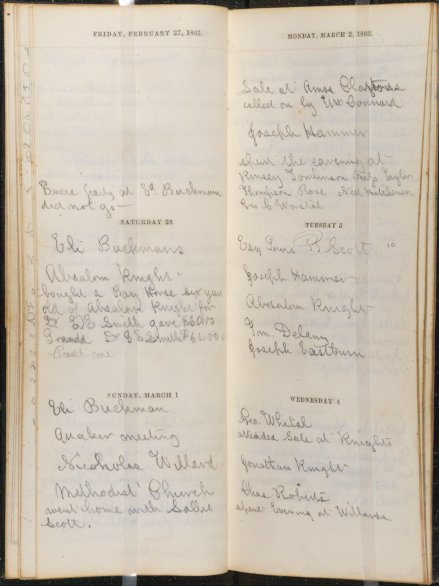 Monday, March 2
Sale at Amos Clayton's
called on by W. Connard
Joseph Hannum
spent the evening at|
Kinsey Tomlinson, Miss Taylor
Thompson Rose, Ned Hutchinson
Geo. C. Worstal
*****
Sunday, March 8
Joseph Hammer  [Sowell?]
Mare – died, congestion lungs
sick 18 hours ---
Quaker meeting [illegible] spoke
afternoon conference meeting
Eve. Took Julia V. Taylor
And Lizzie Barnsley up to
Silas Cary's  - met some friends
Barnsley V. Janney
very hard Thunder Storms
                          Miss Lenox
*****
Saturday, March 14
Jonathan Knights
James Anderson
J. S. Bule Jr.

                       got Dyed up
spent Eve. at Taylor's at
the Contraband meeting[,] had
very good time[.] went home with
Mary Bickman and got some
cider
*****
Friday, March 27
C. R. Scarborough
Jon. Knight
James Anderson
Hourse sale at the Buck|
by Silas Atkinson – Lewis
Roberts took me down – he
bought a pair of mules